Pinion Accelerates Their Resourcing Maturity by Choosing Dayshape as Their Resource Management Solution
Press Release
•
Jul 18, 2023
Pinion, the top 100 US accounting firm and global leader in food and agriculture consulting, implements Dayshape's AI-powered resource management software to drive forward their resourcing from labor-intensive and time-consuming scheduling to fully integrated and centralized resource management.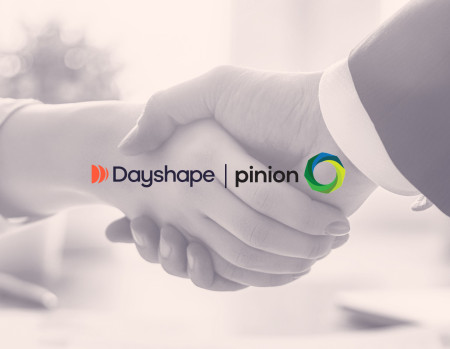 EDINBURGH, Scotland, July 18, 2023 (Newswire.com) - Dayshape, a software company using AI technology to power professional services planning, welcomes Pinion as a live customer in 2023. The new software investment is supporting Pinion's commitment to innovation on a global scale by progressing from scheduling software to an intuitive and proactive resource management solution.
Andrew Bone, CEO and Co-founder of Dayshape, said: "It's great to welcome Pinion as a Dayshape customer. They've come from using a scheduling tool that they had outgrown to Dayshape - a resource management solution that is built to scale with professional services firms."
Pinion, with over 375 employees and 27 offices across the US, was previously using scheduling within a practice management tool but felt it lacked the forecasting and talent management functionality required.
Allison Hovey, Resource Management Leader at Pinion, said: "We realized we needed resource management, not just scheduling. We needed a comprehensive tool with reporting, forecasting, and utilization data - and Dayshape's ability to integrate with our existing systems gives us that."
With Dayshape, Pinion has chosen a resource management tool that not only schedules effectively, with firm-wide visibility, but integrates with existing systems such as timesheets to provide live data that can be reported on in Dayshape.
Allison Hovey added: "Tools should be able to give you more data than you put in. With Dayshape, we know the data we input will provide us with valuable insights such as utilization rates and powerful reports."
In addition, Dayshape's assisted and on-demand scheduling options provide peace of mind that task allocation is optimized, based on who is best suited to working on a particular engagement, which helps to increase employee morale and reduce turnover rates.
This allows firms like Pinion to not only consider current skills, certifications, and work experience of resources when allocating work, but also work preferences, utilization rates, and whether the resource has already been given a task on a specific engagement. Together, this suitability criteria provides a powerful metric that enables Dayshape customers to provide a healthy work-life balance for their people, deliver top-quality work for satisfied clients, and empower the resourcing team to make more efficient and informed scheduling decisions.
Allison Hovey shares: "In my experience, visibility gives accountability, it allows you to lay out decision-making with the right insights, allowing the right processes to be followed. It's not about micromanaging, it's about making resourcing a fairer process with a tool like Dayshape that empowers people."
She concludes: "I would and have already recommended Dayshape to other firms."
About Dayshape
Dayshape is AI-powered resource management and project planning software, built specifically for professional services firms. Dayshape helps firms deliver on their top priorities: profitability and growth, outstanding client service, and creating fulfilling careers for their people. Through intelligent automation, Dayshape optimizes your workforce like no other product can, making it easy to ensure your workforce is deployed optimally at all times, no matter how large or complex the scheduling needs.
With over 50,000 users across 20 countries and four continents, including numerous global top 10 accounting firms, Dayshape is leading the way in resource management software innovation.
Get in touch with our team to explore what AI-powered scheduling can do for your firm.
Source: Dayshape