Physical Therapists Across the Country Coming Together in Seattle to 'Fight the Fall'
Press Release
•
updated: Mar 31, 2017
The area's top physical therapists will come together at PT Revolution to discuss the new age of healthcare, business strategies, and how to help more patients on June 10th, 2017 at the Seattle Airport Marriott in Seattle, WA. The event is hosted by FYZICAL, the world's fastest growing healthcare franchise.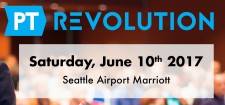 Seattle, WA, March 31, 2017 (Newswire.com) - ​​​​Speakers will address dangerous trends facing private practice business owners in the changing healthcare climate, and the event will showcase a new approach to wellness with emphasis on proactive, preventative care as opposed to reactive, well-care. Physical therapists will focus on working together to take advantage of business expertise & guiding principles to run a profitable private practice, while allowing them to focus on improving patient outcomes, specifically balance patients & fall prevention.
Why is this important?
"Excellent. Possibly the event that will advance private practice. The vehicle that truly cares for people into the future."

Steve T., Fitzgerald, GA
One of the primary topics discussed at the event will be helping individuals "Fight the Fall," a major problem mostly going untreated in the United States:
Every 11 seconds an older adult is treated in the emergency room for a fall
Every 19 minutes an older adult dies from an injury related to a fall
The death rate from falls for seniors 65+ has increased 41% between 2004 - 2013 and continues to rise.
Balance therapy greatly reduces the probability of falling, and treatment after a fall increases the odds of survival by 80%.
Today, healthcare providers are being forced to evolve.
Why? Economic, social and technological forces are emerging to create a "New Health Age." How they think about healthcare, how they deliver healthcare, and the economics of healthcare are changing and healthcare is transforming from one of "sick care" to "well care." Services focused on quality outcomes, total well-being, and prevention are the way of the future.
Past attendees have commented on this event, stating:
"Speakers were on point! System was run flawless" – Gerald D, Philadelphia, PA
"Learned about what the future holds for the private practice practitioner and how we can survive." – Juan M., McAllen, TX
"Excellent. Possibly the event that will advance private practice. The vehicle that truly cares for people into the future." – Steve T, Fitzgerald, GA
FYZICAL, hosts of the event, provides business instruments allowing business owners to operate more successfully and more profitably, immediately. Additionally, attendees will discover how to receive increased referrals and accomplish better volume with existing patient flow.
FYZICAL members across the country understand the science of healing is different than the science of business. Discover the opportunity to become a part of the fastest growing franchise in healthcare. If you or someone you know should be at this event, or would like to know more, you're encourage to register here.
Source: FYZICAL Therapy & Balance Centers
Additional Links