Phoenix Ancient Art Announces Exhibition Focused on Eight Masterpieces From the Ancient World
47 East 66th Street (between Park Avenue and Madison Avenue)
Press Release
-
updated: Oct 25, 2018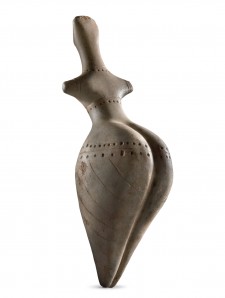 NEW YORK, October 25, 2018 (Newswire.com) - Phoenix Ancient Art, one of the world's leading dealers in rare and exquisite antiquities, is pleased to announce it is hosting a gallery exhibition highlighting eight works of art from their recent publication "CRYSTAL 8."
Hicham Aboutaam, president of Electrum, the exclusive agent for Phoenix, commented: "We are very excited to be exhibiting these eight masterworks of ancient art. The number 8 is considered the luckiest number in China and we are hoping to bring that lucky fortune to New York with this gallery event."
The highlight of the show is a magnificent 7,000-year-old marble "idol" from Neolithic Europe. The exquisite composition of this masterpiece is breathtaking from every angle. Sculpted from a perfect block of white marble, the eye is immediately drawn to the contrast between the lower and upper portions of the piece and the seamless flow of the sculptor's hand.
The event, which also features wine by Château Beychevelle and champagne by Dom Pérignon, will take place at Electrum's gallery at 47 East 66th St. in New York.  
The exhibition opens on Oct. 26, 5–8 p.m., and continues Oct. 27-31, 10 a.m.–6 p.m.
ABOUT PHOENIX ANCIENT ART
With galleries in New York City (Electrum) and Geneva, Switzerland, Phoenix Ancient Art is one of the world's leading dealers in rare and exquisite antiquities with a focus on Greek and Roman, Near Eastern and Egyptian art. Its works of art have been acquired by world-class museums around the world, as well as by private collectors. Phoenix Ancient Art is a second-generation family business that was founded by Sleiman Aboutaam in 1968 and continues today under the leadership of his sons Hicham and Ali Aboutaam. For more information, contact info@phoenixancientart.com or visit www.phoenixancientart.com.
Media Contact:
Alexander Gherardi
Electrum, Agent for Phoenix Ancient Art
212-288-7518
Liam Ben Zur  //  Zack Kouwe
​Dukas Linden Public Relations
​liam@dlpr.com // zkouwe@dlpr.com
212/704-7385
Source: Phoenix Ancient Art
---
Categories: Arts and Entertainment
Tags: Aboutaam, Ancient Art, antiquities, Christie's, Hicham Aboutaam, Phoenix Ancient Art, Sotheby's, TEFAF
---