Philanthropy Takes Lead at House of Lords: Interviews With AI and Tech Leaders Highlight Telehealth for Global Health
Press Release
•
updated: Jan 12, 2021
A telehealth app with AI for users to stay on top of their health will be globally available with over 10,000 subscriptions to the app before its release is timely with coronavirus end not in clear sight. Trends in younger patients show that even after COVID-19 is over, telehealth will be a new norm. Awarded the Telehealth Award at the House of Lords Euroknowledge Awards, the global release of this AI detailed telehealth app has sparked the investment market.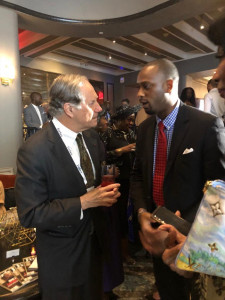 BOSTON, January 12, 2021 (Newswire.com) - Several weeks ago, the Euroknowledge Awards highlighted telehealth as a global need at the House of Lords in London. In Philanthropic Leadership Awards, telehealth, nestled between older brick and mortar hospital systems and a new global health forefront with telehealth accessible to all.
Tsvi Gal, founding technology advisor of Generating Innovation Ventures & Enterprises, Inc. the producer of the GIVE telehealth app, received the award for his leadership in the field of technology and healthcare. Mr. Gal was most recently Chief Technology Officer of Morgan Stanley, and previously CTO of Bank of America, Merrill Lynch and Deutsche Bank. Along with his leadership guiding the GIVE telehealth app, he led many other innovations. His leading innovation of telephone and digital technology include serving as President of AT&T.com. The global release of the GIVE telehealth app comes at a time with an advantage globally as many other telehealth apps were generally built for domestic uses.
Reginald Mbawuike, Harvard Mobile Health Fellow, who proposed a model to use artificial intelligence for deciphering data through telehealth at Harvard in 2015, explained that Tsvi Gal's guiding during the concept phase was critical to the innovation. At the House of Lords, BBC Interviewer Jane Constantinis, looking at the change about the past, present and future trends asked Reginald Mbawuike on his take. "Each country has a better economy when the workforce of the country is healthy. What we do about it in this present economy is what we need to look at," he said.
"More than 18 million serious diagnostic errors every year. AI is being used to help save lives. Digital healthcare startups are pivoting their works to make the world a safer and healthier place for all of us. Harnessing (AI) data can help municipalities to track possible COVID-19 spread everywhere. AI in telemedicine is the hugest revolution that we have seen," said Mark Minevich, the former Chief Technology Officer of IBM.
Mr. Minevich, also the Head of AI for the GIVE telehealth app, explained the context of the GIVE telehealth app for its potential applications for health disparities. "Conscious and unconscious bias is with all of us. Machine learning algorithms are developed by humans with biases." Getting telehealth across remote areas around the world can be a breakthrough. Investment inquiries contact Finance@GIVE.Health mail to Generating Innovation Ventures & Enterprises, One Seaport Sq., Boston, MA 02110. www.GIVE.Health
Source: Generating Innovation Ventures and Enterprises (GIVE), Inc
Tags
Additional Links