Pfister Energy Announces Smartflower™ Solar System Giveaway
Press Release
•
updated: Apr 26, 2019
New Jersey Schools and Non-Profit Educational Organizations to Compete in Video Contest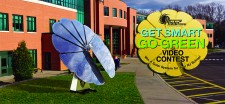 HAWTHORNE, N.J., April 25, 2019 (Newswire.com) - ​​​​​​​​​​​On Earth Day 2019, Pfister Energy officially announced the "Get Smart. Go Green" video contest which aims to find the most deserving accredited New Jersey (K-12) public or private school or non-profit educational organization that illustrates the understanding of renewable energy and the need to "go green" for a chance to win a Smartflower™ Solar System. This unique, blooming standalone solar system is 40 percent more efficient than standard solar panels. It is a highly visible symbol for "clean energy" and is ideal for demonstrating a commitment to combating climate change.
Earth Day evokes awareness for all to support advancing renewable energy technologies. Teachers, staff and students are encouraged to take action, inspire others and be part of a solution that promotes environmental literacy, year-round, for their school.
Pfister Energy's President Wayne Pfisterer states, "Our future depends on educating new generations about renewable energy and sustainable environmental challenges. In addition, this will prepare them to help fill a wide range of jobs and opportunities in the renewable energy sector. By implementing renewable energy, particularly solar as well as storage, New Jersey schools will be less reliant on fossil fuels and kids will be able to see how this solar system operates, real time, in their own schoolyard."
New Jersey Schools continue to lead the way in the application of solar energy. Based on a New Jersey schools study done by The Solar Energy Industries Association (SEIA), there are approximately 500 (K-12) New Jersey schools with solar. According to New Jersey's Department of Education, there are over 2,516 (K-12) private and public schools in New Jersey, thus, creating a tremendous untapped potential among the majority of schools in New Jersey still without solar.
"A typical green school in New Jersey, powered by solar, can save hundreds of thousands of dollars over a 20-year life expectancy. By implementing energy-saving solutions in addition to solar, schools free up monies to purchase supplies, reinstate a cut program, prevent layoffs – the sky's the limit. Our goal for sponsoring the Get Smart. Go Green contest is to help educational institutions reduce operational costs, learn about solar and improve community sustainability."
Pfister Energy will maintain a website devoted to the contest, www.pfisterenergy.com/getsmartgogreen/, displaying a gallery of participants' sustainability stories and featuring across other public media outlets for viewing, sharing and voting. Final determination of the winning video will be made by the sponsor.
The Get Smart. Go Green contest begins April 29, 2019, and goes through June 17, 2019. The winner will be announced after the solar system installation on Sept. 16, 2019.
About Pfister Energy:
Possessing over 25 years of experience, Pfister Energy is respected for its ability to design and build large-scale, complex solar projects as well as offering energy efficiency and energy management solutions. As a total solutions provider offering design, procurement, installation, commissioning, maintenance and financing, clients not only receive best-in-class, cost-effective and tailored energy solutions but will be contributing to a cleaner and sustainable future environment. Pfister Energy is a Smartflower certified technician and will provide complete delivery and installation.
About Smartflower:
Smartflower, the world's first all-in-one solar electric system, with its award-winning design, has debuted in the North American market after a very successful launch in Europe. Inspired by nature's sunflower, Smartflower automatically fans out its solar panels at sunrise to face the sun at a 90-degree angle throughout the day, closing up as the sun sets. The optimization of the solar panels' positioning is effected through GPS-based dual-axis tracking, maximizing the solar energy yield.​
Media Contact:
Lucy Giglio, VP Marketing & Communications
973-653-9880
lgiglio@pfistenergy.com​
Source: Pfister Energy
Related Media
Tags
Additional Links