Performance Caffeine is Positioned to Revolutionize the Energy Shot Market
Press Release
-
updated: Nov 7, 2018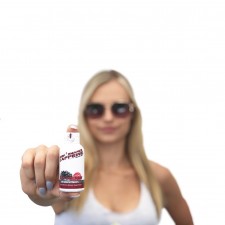 DENVER, November 7, 2018 (Newswire.com) -  The natural alternative to energy shots has hit the market: PERFORMANCE CAFFEINE boasts a beverage technology poised to change the game.
Performance Caffeine is positioned to revolutionize the energy shot industry featuring its clean caffeine, invented to organically galvanize the body and brain. Formulated by a chemist and informed by thousands of studies on caffeine, one shot of Performance Caffeine is infused with ALPHA-GPC nootropics, with a balanced dosage of B-vitamins. The unique bioavailability differentiates Performance Caffeine from other leading energy drink competitors.
Featuring tongue-tantalizing flavors such as "Beast Mode Berry" and "Watermelon Punch," early consumers have raved about Performance Caffeine's sensational difference from competitors.
"I used to down energy drinks before an all-nighter of studying for finals or writing papers, but become so restless, feeling my heart rate spike with little effect on my ability to actually concentrate and produce good work. With Performance Caffeine, I enter 'The Zone' and become hyper-focused, with amped creativity." - Haley Hoffman Smith, Author, Entrepreneur
Performance  Caffeine's inclusion of Alpha GPC, a naturally occurring neural choline, means a shot of Performance Caffeine doesn't only power the consumer for the short-term clean-caffeine buzz. Performance Caffeine's early success is representative of their astute understanding of what a consumer is really looking for in their caffeine consumption: empowered natural capacity and improved focus sans the jitters. It's a caffeine truly geared towards performance.
Learn more about Performance Caffeine and browse their product selection at https://performancecaffeineshot.com/.
Source: Performance Caffeine
---
Categories: Consumer Goods
Tags: All Natural, Alpha GPC, Bioavailability, Caffeine, Energy Drinks, Energy Shot, Nootropics, Preworkout, Vitamins
---