Perform[cb] Expands Internal Media Team Leadership, Names Eloise Hansen VP of Internal Media
Press Release
•
Sep 6, 2023
Perform[cb]'s Outcome Engine appoints Eloise Hansen as the new Vice President of Internal Media.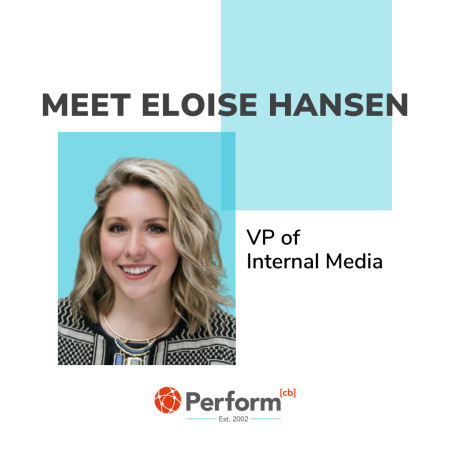 SARASOTA, Fla., September 6, 2023 (Newswire.com) - Leading provider of outcome-based marketing (OBM) services, Perform[cb], officially named Eloise Hansen as the new Vice President of Internal Media. Perform[cb]'s omnichannel media execution division, the Outcome Engine, houses an internal media team that acts as a risk-free, performance-based solution for marketers to purchase top programmatic media across hundreds of publisher sources. The internal media team is a top-five traffic provider for many enterprise brands at Perform[cb], delivering high-quality, strategic scale all within a strictly outcome-based pricing model.
Eloise Hansen brings over a decade of paid media experience to Perform[cb]'s internal media team, including being the first dedicated Paid Media Lead and managing an 8-figure budget for Amazon's Alexa Shopping organization, Senior Manager of Paid Media over Marriott International's global paid media, and Media Planning Supervisor at independent media agency Kelly Scott Madison, among countless other roles across the digital marketing industry.
"The expertise and drive that Eloise brings to our internal media team is unmatched," says Matthew Lord, Chief Strategy Officer. "Her background driving outcomes for some of the biggest brands in the world are the perfect fit for Perform[cb]'s media services. The team and I are excited to level up our capabilities under her leadership, driving quality customers at scale for our clients across a wide inventory of digital media channels."
First established in 2020, following the acquisition of Digital Remedy's pay-per-call and media solutions, Perform[cb]'s internal media team now has access to 25 ad exchanges, multiple SDK integrations, competitive SKAN solutions, expert ad-targeting, and strategic re-engagement capabilities. Clients leverage Perform[cb]'s SSP and DMP relationships to create curated audiences and PMPs tailored to their brand's outcome-based marketing goals. With Eloise's knowledge and insights into successfully scaling digital media campaigns, Perform[cb] will continue delivering omnichannel expansion for new and existing marketers across all major and emerging channels to drive smarter customer acquisition.
"I'm extremely thrilled to join Perform[cb] and build off of the fantastic work their internal team is already doing to shape the future of outcome-based media buying," says Eloise Hansen, VP of Internal Media. "I'm confident that this new transition will greatly benefit both Perform[cb]'s clients and team members, expanding the excellent level of service being offered and sticking true to the Think Bigger vision. The future of omnichannel is bright, and I'm looking forward to positioning Perform[cb] at the helm."
About Perform[cb]
Recognized as the #1 in Outcomes since 2015, and an award-winning Affiliate Management Agency, Perform[cb] is a distinguished leader within the outcome-based marketing (OBM) industry. Founded as Clickbooth in 2002, Perform[cb] experienced exponential organic growth, allowing the company to complete a series of strategic acquisitions; each providing unique solutions for modern marketers and publisher partners.
Completely reinventing the way advertisers acquire customers, Perform[cb]'s Outcome Engine integrates a supremely intelligent customer acquisition platform (CAP) with a broad range of expert services and a highly curated marketplace. The solution provides the strategies, data, and insights marketers need to make the quickest, most informed decisions about their advertising budget - AKA "always-on" ROAS.
Brands like Walmart, LendingTree, FanDuel, and Capital One have leveraged Perform[cb] to grow their customer base and lifetime value at scale. Powered by a robust end-to-end marketplace platform and protected by PerformSHIELDⓇ, their proprietary anti-fraud software, Perform[cb]'s "Think Bigger" vision is of a future in which all marketers are empowered to maximize the ROI of their advertising dollars by paying only for real outcomes.
For more information, visit performcb.com
Source: Perform[cb]