Pepper Rutland and MMR: A Year in the News
Press Release
•
updated: Dec 30, 2020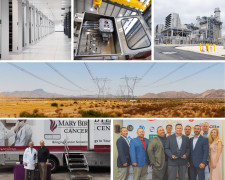 BATON ROUGE, La., December 30, 2020 (Newswire.com) - Under the leadership of MMR President and CEO James "Pepper" Rutland, MMR continues to flourish as the largest privately-owned electrical and instrumentation contractor in the nation. In 2020, Pepper Rutland and MMR celebrated a number of wins, including garnering multiple elite industry rankings, safety awards, the completion of notable industrial megaprojects and the rollout of employee wellness and recruitment initiatives. In addition, a redesigned website was launched to complement MMR's robust list of services, expanded industry experience and new geographic locations.
"Our industry, like many, has been faced with unprecedented and unsure circumstances in 2020," said MMR President/CEO James "Pepper" Rutland. "I am proud of MMR's ability to adapt and remain successful, and I anticipate 2021 will continue to bring new markets and opportunities for our company and clients."
Highlights of 2020
MMR is ENR Texas and Louisiana's Top Electrical Contractor in the Nation
In January, Engineering News-Record (ENR) of Texas and Louisiana featured MMR as the number one electrical contractor in the nation. With 33 offices across the globe, the leading specialty contractor provides electrical construction, maintenance and technical services for clients in the chemical and petrochemical, oil and gas, industrial manufacturing, power generation and renewable energy and energy storage markets.
MMR President/CEO James "Pepper" Rutland stated, "MMR is proud to be recognized by ENR of Texas and Louisiana as the number one electrical contractor. As we move into the new year, MMR will continue to provide the best service to our clients, focusing on breaking into new market sectors and expanding our geographic footprint domestically and internationally. MMR will continue to remain at the forefront of the industry thanks to the outstanding leadership and safety standards of the men and women who form our company," said Rutland.
ENR's January edition also highlighted MMR's performance on the Sasol Lake Charles, Louisiana Chemical Complex - Cracker and Derivatives project. With a contract value of over $320 million for MMR, the project brought together at its peak 1,400 MMR employees logging approximately four million work-hours. MMR is proud to be consistently recognized for its safe work practices throughout the project.
The magazine recognizes MMR's workforce development efforts among the industry-wide skilled labor shortage that specialty contractors are currently facing. MMR has taken an active role in addressing these concerns through the development of an NCCER accredited Craft Training Center and an apprenticeship program for electrical journeyworkers.
MMR Supports Employee Health and Wellness, Targets Cancer Education, Prevention and Detection
Additionally, MMR kicked off 2020 with a rollout of wellness initiatives aimed at encouraging employees to adopt a healthy lifestyle in the new year. "The mental and physical health of my team is top priority, and I am committed to providing exceptional benefits and cutting-edge health and wellness programs so that employees can seek the best care in a convenient and affordable way," said Rutland.
In January, MMR partnered with Mary Bird Perkins Cancer Center to target the education and prevention of oral cancer and tobacco use by setting up an on-site mobile clinic for employees, and in March, held a month-long campaign and screenings to target skin cancer awareness.
Through a close corporate partnership with Mary Bird Perkins Cancer Center, MMR's support has advanced cancer care as well as provided education, prevention and detection services to its employees and the community at large with Mary Bird Perkins' Prevention on the Go - Workplace Program.
In 2018, MMR was one of the first companies to participate in the Prevention on the Go program, which has screened over 300 MMR employees. Of those, 68 percent of skin and oral screening participants had never been screened before.
A remote radio show, "The Brand" with Carey Guglielmo on Talk 107.3FM, was held at MMR headquarters, in Baton Rouge, Louisiana, during March's skin cancer screenings. Pepper Rutland described the relationship with Mary Bird Perkins formed after several employees received a cancer diagnosis and chose to utilize the services of the Cancer Center. "Having visited the facilities, gone through treatment and seen their technologies, it was obvious that MMR needed to be involved with the Mary Bird Perkins facility in Baton Rouge," said Rutland.
The show also featured Mary Bird Perkins Cancer Center President/CEO Todd Stevens, Screening Physician Dr. Sarah McGinty and Dana Simmons, an MMR employee and cancer survivor who received care and treatment under the Cancer Center.

MMR Provides Custom Design, Fabrication, Integration and Analytical Systems for Clients
In February, MMR's enhanced panel and modular control building services were featured. MMR provides fabrication and integration services for industrialized control buildings as well as custom consoles, temporary power racks, analyzer sample systems and shelters. MMR also offers estimating, design and 3D modeling capabilities to clients.
Pepper Rutland stated, "Extending our services to include enhanced panel and modular control buildings is a vital part of our overall commitment to providing the very best, comprehensive service at MMR. And as we move into the new year, MMR will continue to focus on providing value-added services like the Integration and Panel Fabrication Centers, breaking into new market sectors and expanding our geographic footprint domestically and internationally to meet the demands of our clients."
The Integration and Panel Fabrication Centers, located in Baton Rouge and Belle Chasse, LA, total 40,000 square feet and include 14,000 square feet of controlled environment. Both are UL-508A listed panel shops and are UL and CSA listed for Type 4X Industrial Control Panel Enclosures. Each facility is staffed with an inspector who has received Certified Welding Inspector of the American Welding Society/QC1 certifications.
Because MMR is devoted to ensuring the safety, security and quality of their work, the Centers are equipped with secure and state-of-the-art webcam technology that allows customers to monitor their projects from a remote location.
MMR's clients are able to purchase, receive, and store relevant materials and equipment onsite, and at project completion, shipping is made safer, cost-efficient and worry-free through coordination of transportation using MMR's two 40-ton bridge cranes, with weight cell capabilities, for equipment load out.
MMR Garners Numerous Awards and Recognition
MMR Ranks Eleventh on ENR and EC&M's Top Electrical Contractors Lists
MMR earned the eleventh spot in the Top 50 Firms in Electrical List compiled by Engineering News-Record (ENR) and Electrical Construction and Maintenance Magazine (EC&M). This placement is based on the reported earnings from 2019, and MMR earned $806 million in annual revenue domestically and internationally.
MMR Named ABC Top-Performing Electrical Contractor, Ranks Third on U.S. Commercial and Industrial Construction Firms Contractors' List
MMR's continued dedication to safety and commitment to excellence in quality, diversity and project excellence was recognized by the Associated Builders and Contractors (ABC) who named MMR as the top-performing electrical contractor in the United States. From a list of top performers in the US, MMR was also recognized third place in the US commercial and industrial construction industry list.
MMR Achieves ABC Diamond Safety Status
In June, MMR earned Diamond status in ABC's STEP Safety Management System, being 827% safer than the industry average, based on the U.S. Bureau of Labor Statistics. This designation is the highest level in the STEP program and exemplifies the standards and commitment to enhancing safety programs at MMR Group.
MMR Ranks Sixth in Baton Rouge Business Report's Top 100 Private Companies
This past spring, MMR ranked sixth on the Business Report Top 100 Private Companies in the Baton Rouge Capital Region for the third year in a row. This list was based on the annual earned revenue in 2019.
MMR Receives First Place Safety Excellence Award from GBRIA
For excellence in safety, MMR Group earned first place for the Greater Baton Rouge Industry Alliance (GBRIA) 2020 Contractor Safety Alliance Awards, under the category of Specialty Trade Hard Craft Category for Division III / 10 million+ work hours. The GBRIA Contractor Safety Alliance Awards gives GBRIA member sites a chance to nominate companies that showcase the highest quality and safety in their categories. MMR was also nominated under the Contractor category during the GBRIA Craft Workforce Development Awards Program to honor MMR's commitment to workforce development.
Source: MMR Group
Tags
Additional Links