People Who Told Their #MeToo Stories Are Discovering Their Next Step From an Unlikely Source.
Press Release
-
updated: Oct 24, 2017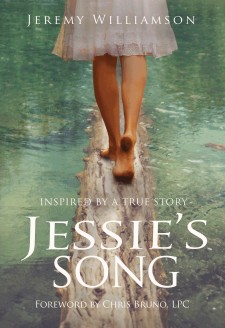 FORT COLLINS, Colo., October 24, 2017 (Newswire.com) - Millions of people exposed their deepest secrets to the world through social media during the #MeToo movement. Most have been left wondering what to do next. After the likes, retweets, and caring comments subside, often the pain and baggage of sexual assault remains. It may be no coincidence that a Fort Collins, Colorado author and Lost and Found Publishing launched a book designed for sexual abuse survivors on Oct. 15, the same day #MeToo would take the world by storm.
Jessie's Song is the debut work of Jeremy Williamson. Inspired by true events, the story follows Jessie Jenkins through a childhood devastated by secrets and abuse. Later, after years of running from her past and searching for her true identity, Jessie runs headlong into her answer. The answer Jessie finds has left readers feeling, "So many emotions, tears of sadness and tears of joy." According to one reader's review, "It is a must read on anyone's healing journey."
Author Jeremy Williamson says "I am fed up with the fact that millions of amazing, infinitely valuable people are limping through life with unhealed wounds. They've been forced into silence by a culture which refuses to deal with the issue of abuse because it is just too messy. I am inviting everyone who is hurting to find healing for their broken heart and hope for their future."
Jeremy has been this passionate as long as he can remember. Directly after graduating high school, Jeremy dove into an educational and ministry journey which has taken him from the slums of Central America to the jungles of India. He's served orphans in Thailand and women living with HIV in Malawi. He has prayed with members of Mexican drug cartels and struggling American youth in the same afternoon.
Today, Jeremy lives in Northern Colorado with his family. Whether he's at home or abroad, Jeremy's life continues to be dedicated to "Helping all kinds of people encounter the relentless love of God."
Jessie's Song is a powerful work of fiction inspired by the story of someone Jeremy loves very much—his mother. Jessie is a young girl growing up in a small Texas oil town. She and her five siblings spend their time adventuring in the woods and doing their best to survive the rage of their alcohol-driven father.
Late one night, after Jessie's father stumbles into her room and attempts to molest her, an existential battle over her identity erupts in her soul. This battle will lead her to the brink of suicide. Months after her suicide attempt and the jail time which followed, Jessie meets a mysterious stranger near a tiny lake high in the Rocky Mountains. This stranger knows every detail of her past and offers the only thing she ever wanted—a love that can be trusted to heal and not harm. As Jessie takes the greatest risk of her life, she discovers the truth about her past that will change her future forever.
Jessie's journey is one of hope, healing, and true identity for survivors of abuse and everyone who longs to believe again that they were created for something more.
Media Contact:
Jeremy Williamson is available for speaking engagements, on-air interviews, and more.
jeremy@lostandfound.life
(970) 658-6585
Facebook: /jeremyw805
Twitter: @jeremyw805
jessiessong.com
lostandfound.life
Complementary digital review copies of Jessie's Song are available. Request review copies by sending an email with your name, company name, and contact info to: info@lostandfound.life
Visit www.jessiessong.com today to learn more about why this book is changing lives.
#MeToo #Sexualassault #jessiessong #youarenotalone
Source: Lost and Found Publishing
Share:
---
Categories: Books, Radio, Television, Social Media, Media and News
Tags: #MeToo, Abuse, Bill O'Reilly, colorado, domestic abuse, emerging author, Me Too, new books, Sexual Abuse, Sexual Assault, social media, weinstein
---