Penn College Student Updates Iconic Maya Calendar Converter
Press Release
•
updated: Nov 13, 2018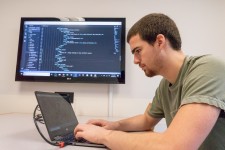 WILLIAMSPORT, Pa., November 13, 2018 (Newswire.com) - Archaeologists traversing the ruins and rainforests of Mexico and Central America to unearth clues about the Maya culture have an ally more than 3,000 miles away at Pennsylvania College of Technology (www.pct.edu).
And he doesn't even own a shovel.
I have confidence that many of my colleagues will be thrilled to see this powerful research tool reborn in modern programming code. The truth is that studying the Maya calendar is an esoteric occupation, probably never to be traded on the Dow, but for those who are capable of recovering Maya ancient history, this is going to be an invaluable tool.

Ed Barnhart , Director, Maya Exploration Center
From the comfort of a campus computer lab, Ethan M. Yoder digs deeply into his expertise to modernize a valuable tool that helps researchers assign historical context to discoveries. The software development and information management student is updating the iconic "bars and dots" Maya calendar converter for his senior project.
"I'm very much for education and research and for keeping a tool relevant and easy to use," said Yoder, who is also earning minors in math and cyber security. "I see this as a unique opportunity to put my skills that I learned at Penn College to use."
Working at the behest of the author of the first Maya calendar conversion computer program to aid researchers studying one of the world's most mysterious, yet influential, societies certainly qualifies as "unique."
The process, though, is familiar.
"In creating software in our major, we go through different stages: requirement gathering, design, implementation and maintenance," Yoder said. "In the summer for this project, we did the requirements and design. Now it's all about implementation."
Yoder works several hours a week on his laptop to transform a program running on the Microsoft disk operating system – standard on personal computers throughout the 1980s and early 1990s – to modern programming code for today's users.
In other words, it's like he's turning Pong – the 1970s table-tennis game with rudimentary two-dimensional graphics – into Madden NFL 19. Archaeologists will be the big winners.
Yoder's upgrade will provide them with easy access to a program capable of assigning dates to the Maya calendar symbols typically found on the society's monuments and artifacts.
"The ancient Maya developed a highly sophisticated calendar system to record the passage of each year, a system which integrated 20 unique day names and 13 unique day numbers with a 365-day solar year," said D. Robert Cooley, associate professor of anthropology/environmental science at Penn College. "They used this system to organize cyclical events like birthdays or planting crops. Simultaneously, though, for larger, more ritually significant events like temple construction, battle victories or the crowning of kings, they also utilized a base-20 numerical system to calculate a numerical representation of when these events happened in relation to the date they believed was the "creation" of the world, August 11, 3114 B.C."
The original computer conversion program and Yoder's update estimate the Maya date by calculating a number derived from lines – known as bars – and dots often appearing on an artifact. That number, or "long count," is combined with a correlation factor to convert the Maya date to the Gregorian calendar, the most widely used civil calendar. As a result, a series of cryptic bars and dots can reveal a specific date, such as Oct. 2, 1387 A.D.
"The more we know about their calendar, dates and writing system, the more we can learn about when historical events occurred in their society, about the rise and fall of their population and about influences on their culture," Cooley said.
Cooley and Curt E. Vander Vere, assistant professor of mathematics, take students to Mexico annually to study Maya history, as part of the college's Mathematics in Non-European Cultures course.
Maya refers to the indigenous people who dominated Mesoamerica ­– the region now known as Mexico and Central America – for portions of the pre-industrial age. According to the Ancient History Encyclopedia, the classic Maya period was 250 to 950 A.D. Many of their advances in architecture, engineering, food production, astronomy, and mathematics originated during that era.
The Maya civilization collapsed following a great exodus from its cities to rural areas. Possible reasons for society's demise (overpopulation, drought, political strife, etc.) continue to be debated among historians and social scientists.
That mystery and the clues offered by artifacts and ruins often hidden under the thick rainforests throughout southern Mexico, Guatemala, Belize and portions of Honduras and El Salvador make the region a fertile one for archaeological study.
"The Maya have a multi-thousand-year heritage that has been influenced by internal and external cultural factors and environmental factors that still exist today in that region," Cooley said. "Their history demonstrates the flexibility of culture in the face of anthropogenic and environmental change."
Noted archaeologist Ed Barnhart, director of the Maya Exploration Center, organized the first couple Penn College field experiences to Mexico and developed a friendship with Cooley and Vander Vere. When Sid Hollander, who developed the first Maya calendar computer conversion program in the mid-1980s, solicited Barnhart's help last spring to update his creation, Barnhart turned to Penn College.
Cooley and Vander Vere asked Bahram Golshan, associate professor of computer information technology, to recommend some outstanding information technology students who could tackle Hollander's project. Golshan's list included Ethan Yoder.
"Ethan had the drive and interest to quickly investigate the opportunity," Golshan said. "He is very good in programming and software development."
Raised in the small borough of Denver, Lancaster County, in the midst of Pennsylvania Amish country, Yoder loved math and computers. A programming course in high school hooked him on software development, which he decided to pursue at Penn College.
"I saw that their graduates were doing big things in the world and playing important roles in industries," he said. "I really liked the balance of theory and hands-on work. You can constantly apply what you are learning."
Yoder has learned well. The Dean's List student is a Tech Scholar at Penn College. An initiative funded by a National Science Foundation grant, the program rewards STEM majors with recurring scholarships and industry field trips.
However, it was his senior project that resulted in the best field trip. Following a successful interview process, Yoder spent two weeks this summer meeting with Hollander in Mérida – the capital city and cultural heart of Mexico's Yucatán Peninsula – to discuss upgrading Hollander's "bars and dots" program.
"People still use it today, but you need an old computer with DOS or an emulator," Barnhart said. "There are Russian scholars who swear by it and a number of Europeans, too. I know of at least one professor in Florida who keeps her computer from the 1990s just so she can use Sid's program."
The goal for the update is to facilitate the use of the program on laptops and mobile devices, rather than rely on the resurrection of relics from the IT graveyard.
"All sorts of ideas came to mind about what a modern program could look like," Yoder said. "The challenge was making sure we weren't putting too much on our plate. We are dreamers."
The reality is that a creation formally reliant on command prompts is now an intuitive program with a web-like interface featuring various menus, submenus and clickable options, all accessible through multiple devices.
Most importantly, the core functions remain: calculating possible combinations for partial Maya dates and converting Maya dates to the Gregorian calendar. Typing on a keyboard to determine that information is much more efficient in both time and cost than carbon dating, the main alternative.
"I have confidence that many of my colleagues will be thrilled to see this powerful research tool reborn in modern programming code," Barnhart said. "The truth is that studying the Maya calendar is an esoteric occupation, probably never to be traded on the Dow, but for those who are capable of recovering Maya ancient history, this is going to be an invaluable tool."
Yoder expects to complete the tool prior to his December graduation. In January, he is scheduled to begin working full time as a software engineer for Clark Associates Inc., a Lancaster-based company devoted to the food service industry. No matter how successful he becomes in that position and his future endeavors, the significance of the Maya project will be timeless in his eyes.
"I like the fact that I'm making a tool that will be free to use and will give people access to ancient history," he said. "It's helped me appreciate programming for the sake of making the world a better place. This type of project doesn't come up that often."
In addition to software development and information management, Penn College offers three other IT baccalaureate degrees: information assurance and cyber security, information technology: network specialist concentration, and game and simulation programming. Students also may seek an associate degree in information technology: technical support technology emphasis.
For more about those majors and other programs offered by the college's School of Industrial, Computing & Engineering Technologies, call 570-327-4520 or visit www.pct.edu/icet.
For more about Penn College, a national leader in applied technology education and workforce development, visit www.pct.edu, email admissions@pct.edu or call toll-free 800-367-9222.
Media Contact:
Tom Speicher, writer/video producer
570.320.2400 x. 2767
tspeiche@pct.edu
Source: Pennsylvania College of Technology