Pearl Certification Partners With Mosaic to Advance Solar and Energy-Efficiency Home Improvements
Press Release
•
Jul 12, 2023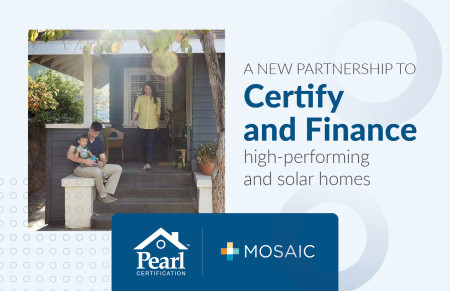 CHARLOTTESVILLE, Va., July 12, 2023 (Newswire.com) - Pearl Certification, the leading third-party certification for energy-efficiency and home performance installations, and Mosaic, a sustainable home improvement financier, announce a new partnership to benefit homeowners and high-quality contractors.
Both Pearl Certification and Mosaic serve contractors who specialize in energy-efficient home improvements and solar installations. Through the new partnership, these contractors can make sustainable home improvements more affordable with Mosaic's financing, while ensuring homeowners capture the value of their investment for future refinancing or resale with Pearl's third-party home certification.
"We are excited to embark on this new partnership with Mosaic. Both of our companies work with some of the best contractors in the business, who provide the highest level of customer service for homeowners," said Cynthia Adams, Pearl's CEO and co-founder. "We understand how important financing is to helping folks afford energy efficiency and solar installations, but just as important is working with a contractor who provides consultative solutions that meet homeowners' goals. We look forward to bringing the equity-enhancing advantages provided by our third-party certification to Mosaic's contractors and the homeowners they serve."
Pearl has captured $1 BILLION in added home equity by certifying work performed by high-quality contractors and plays a vital role in quantifying the value energy-efficient home improvements bring to the home. In this way, the best contractors are able to differentiate from lower-quality competitors and give U.S. homeowners peace of mind through third-party certification. When marketed correctly, Pearl Certified homes can add 5% or more to a home's sale price.
"Pearl Certification is a win-win for contractors and homeowners alike," said Eric Torykian, Mosaic Business Development Leader for HVAC. "Pearl makes it easy for homeowners to increase the comfort, energy efficiency, and value of their homes by investing in high-performing upgrades. It also allows contractors to lead with an additional level of value and quality above and beyond their company's products and services. We are pleased to partner with Pearl to bring even more benefits to Mosaic's network of thousands of contractors nationwide."
Through the Mosaic lending platform app, solar and home services contractors can offer homeowners financing options and preapprove them on the spot. Contractors can help customers afford the best, close deals faster, and receive payment more quickly.
With this new partnership, Mosaic contractors are pre-approved to join the elite Pearl Network, gaining them access to third-party home certification services. For a limited time, Mosaic contractors will receive a discounted rate on Pearl Network onboarding and fees. Together, Pearl Certification and Mosaic will revolutionize the home services industry.
To learn more about Pearl's partnerships, please visit https://pearlcertification.com/partners.
###
About Pearl: Pearl Certification is a national firm that qualifies an elite network of professionals and certifies high-performing homes: homes with heating and cooling, solar, smart home devices, resilient features and much more. Pearl's Certification Reports drive demand for these features by making them visible at time of sale. They enable home sellers to capture the value of their investments and buyers to find the homes they want. www.pearlcertification.com.
About Mosaic: Mosaic is an industry-leading fintech platform for sustainable home improvements. With deep, strategic partnerships and a network of thousands of contractors nationwide, we empower homeowners to unlock greater savings, resilience and value in their homes. Founded in 2010, Mosaic was a pioneer in clean energy lending and continues to provide innovative solutions for financing solar, battery storage, heat pumps and more. We have funded over $13 billion in loans to help more than 360,000 households make their homes more sustainable and save money on their utility bills. Our financing options unlock billions of dollars of capital annually into high-quality ESG assets. Join us in our vision of 100% clean energy for all at joinmosaic.com
Source: Pearl Certification