Pearl Certification Launches Electrified Home Badge Feature
Press Release
•
Apr 26, 2023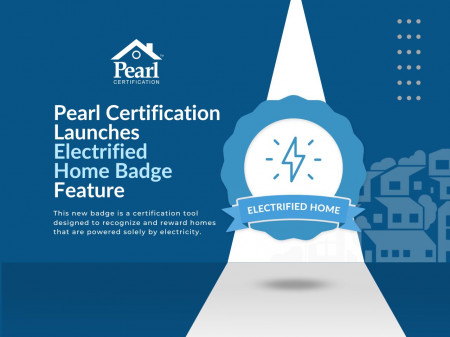 CHARLOTTESVILLE, Va., April 26, 2023 (Newswire.com) - Pearl Certification is launching its new residential Electrified Home badge, a certification tool designed to recognize and reward homes that are powered solely by electricity.
"The electrification of homes has become an important issue for homeowners and policymakers," said Robin LeBaron, president and co-founder of Pearl Certification. "Pearl's new Electrified Home badge is designed to support the efforts of homeowners, contractors, and builders who are interested in electrifying buildings. The badge will verify that the home has been fully electrified. By showcasing the many benefits of home electrification, including healthy indoor air, and comfortable, consistent room temperatures, the Pearl Electrified Home badge will increase an electrified home's sale price."
Pearl Certification is a national firm committed to providing homeowners with tools to improve the energy efficiency and performance of their homes, and to ensure that these homes are properly valued when sold. The Electrified Home badge was designed in part to complement and support the recently-enacted Federal Inflation Reduction Act (IRA) home electrification rebate program. The Inflation Reduction Act was designed to promote energy efficiency and reduce greenhouse gas emissions by providing funds for homeowners to install electric heat pumps, water heaters, cooking appliances, and other features. Pearl's Electrified Home badge gives homeowners a roadmap to continue the process of electrifying their homes, and a reward for completing it.
Pearl's Electrified Home badge will provide homeowners with a clear and credible way to communicate to the marketplace that their home is unique and deserves a premium price tag when sold. The Electrified Home badge is based on Pearl's Certification's building science-based third-party certification process. With the addition of this badge to the certification, homeowners will be able to showcase their commitment to sustainability to potential buyers, appraisers, and lenders.
One way for a homeowner to earn the Electrified Home badge is to sign-up for a free Green Door app account and verify all of their major home appliances and systems meet Pearl's requirements. If a homeowner would like to upgrade to electric appliances or HVAC systems in order to earn the new Electrified Home badge, they can connect with a local, vetted, Pearl-network contractor directly inside the Green Door app.
Pearl's Electrified Home badge will serve as an important tool for homeowners, contractors, builders, and policymakers alike. It will help promote a cleaner and more efficient energy system, while also providing tangible benefits to those who embrace home electrification.
For more information or to find a Pearl-certified contractor in your area to help electrify your home, please download Pearl's award-winning app, Green Door, and create your free account. https://register.greendoor.app/signup/.
About Pearl Certification:
Pearl Certification is the gold standard in high-performing home certifications, bringing visibility to the valuable features that make them healthy, safe, comfortable, and energy- and water-efficient. Pearl is the only national sponsor of the U.S. Department of Energy's Home Performance with ENERGY STAR® program and is a partner with the National Association of REALTORS® Green Resource Council. Pearl has certified and provided appraisal addenda on over 130,000+ homes in 44 states and Washington, D.C. Pearl Certified homes sell on average for 5.5% more than comparable homes, according to independent appraiser studies. For more information, visit www.pearlcertification.com
Source: Pearl Certification