Peaceants Activists Dress Cool to Colonize
Press Release
-
updated: Jun 21, 2017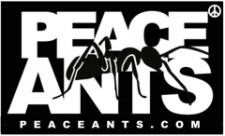 Key West, FL, June 21, 2017 (Newswire.com) - Invoking memories on the 50th Anniversary of the "Summer of Love," a new line of activist wear is ready to re-energize a movement to demonstrate that PEACE is always in fashion. The line of active wear and accessories is designed to fill the void of contemporary designs to promote PEACE in the consumer marketplace.
"Ants are universally recognized as social creatures and they provide an appropriate image to attract new generations who wish to promote PEACE," said Juan Pisani, owner of The Peace Store, a boutique in Key West, FL. "We've tested the new line and found that young and old alike find the clever juxtaposition of ants with colonizing for PEACE intriguing. We are making it easy for people to crawl out from underground and embrace PEACE."
The new PEACEANTS line was developed following research and travels that revealed the appeal of the Ant as a metaphor for building social networks. From bookstores in Turkey, boutiques in Argentina, disco nights in Spain, craft offerings in India, and stories about the Ants of New York, the Ant emerged as a ripe mascot for PEACE colonizing. New lines to be released are being designed for pet owners, human rights advocates and those seeking nostalgic connection with the flower power movement and environmentalism.
Co-owner and blogger, Val Marmillion, who airs on Key West Pirate Radio, WKYZ, with regular commentary as PeaceRadioMan notes that it is time to re-charge the PEACE movement. "It is almost incomprehensible that fifty years has passed since the Summer of Love and America is still busting its budget with a continuous state of war. Peace is morally the next move," said Marmillion. "By providing the market with interesting fashions, we hope to inspire a consumer trend, which in recent times has been the strongest signal beyond the Internet for individuals to express themselves and their lifestyle choices. We want to offer that choice."
The announcement of PEACEANTS comes as small teaser ads being placed in university and alternative news, the first test markets being with the University of California Berkeley Daily Californian and LA Weekly, owned by the Village Voice Media Group. Pisani, whose earlier career included a professional modeling stint in LA and Milan, thinks that Key West offers a solid proving ground for the new styles. "We see all types, ages and sizes walking through our doors and there is universal attraction to PEACE," noted Pisani. "We firmly believe that from small places, big ideas grow and we are ready to provide the market with the idea of making a fashion statement about PEACE."
The new colonizing designs can be found at The Peace Store boutique, 419 C Duval Street, Key West, Florida, or online at peaceants.com.
Contact: Lisa L. Noble
562.429.3821
​ln@mcopr.com
Source: The Peace Store
---
Categories: Fashion and Apparel, Shopping, Lifestyles
Tags: active wear, design, fashion, fashionblogger, mensfashion, menswear, peace, streetwear, style, womensfashion, womenswear
---