pCloudy Announces Integration With Appium Desktop
Press Release
-
updated: Apr 9, 2019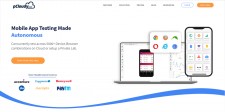 DUBLIN, Calif., April 9, 2019 (Newswire.com) - pCloudy, a cloud-based mobile app testing platform, has integrated with Appium Desktop. This integration will enable users to run Inspector sessions on pCloudy devices. The user needs to login into the registered account, set up the desired capabilities for the test appropriately, and then the user can drive the app remotely using Appium Desktop.
The user would need two things if he or she wants to write test scripts with Appium. Appium Server is the first thing, and the other is a mechanism which will allow the user to identify the controls (buttons, text boxes, etc.) in the mobile app that the user wants to automate.
Appium Desktop acts as a GUI for using Appium and inspecting the app's structure in Mac, Windows, and Linux. It gives users the power of the Appium automation server in a more organized manner with a flexible UI. Appium Inspector is a tool to look at the app's elements to get basic information about them and perform basic interactions.
To test any element in the app, the user must set desired capabilities which are used to inform the Appium server about the type of app the user wants to automate. It includes the name and type such as text, number, and file path. It has a function called action recorder, which is used to record user actions and to produce the test code.
The Appium Desktop tool enables users to work with Appium on their desktops and use Inspector for better analysis of their apps. It allows the use of desired capabilities and presets configuration for the user's convenience. It provides the ability to switch between web-view and native app view from the Inspector and also provides an action recorder and the code generator.
Prerequisites to use the tools effectively
·         Appium Desktop installed on the user's machine
·         IPA or APK file
·         pCloudy Account
About pCloudy
pCloudy is a next-gen mobile app testing platform that lets developers ensure their users enjoy a smooth and consistent experience. It has 5,000 device browser combinations to perform manual and automation tests using futuristic features like the AI-powered testing bots which bring parallelism to mobile app testing. 
For further information, please contact:
Website: www.pcloudy.com
email: info@pcloudy.com
Phone: +1 -833-7787-872
Address: 11750 Dublin Blvd, Suite 200, Dublin,
California – 94568, USA
Source: pCloudy
Share:
---
Categories: Mobile and Smart Phones
Tags: appium desktop, Appium Inspector, mobile app testing
---