Paying Tribute to 2,200 Departed Veterans
Free and Open to the Public
Press Release
-
updated: Oct 18, 2017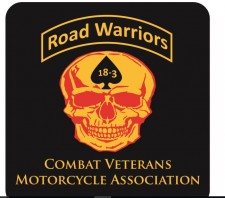 Knoxville, TN, October 18, 2017 (Newswire.com) - The Combat Veterans Motorcycle Association (CVMA) 18-3, a Knoxville based non-profit veterans group, is offering everyone an opportunity to honor deceased veterans by placing a penny on headstones at the East Tennessee Veterans Cemetery. A coin on a veteran's headstone is an indication that the grave site was visited.
Everyone who would like to help pay their respects are invited to help CVMA distribute the pennies. There will be a very brief ceremony prior to distributing the coins supplied by CVMA.
A penny left on a headstone or at the grave site is a message to the deceased veteran's family that someone visited the grave to pay their respects.
A nickel indicates the grave site was visited by another veteran who trained in boot camp with the deceased, while a dime means the veterans served together in some capacity.
A quarter at the grave, tells the family the deceased was visited by someone who was with the deceased when he or she was killed and paid their respects by visiting the grave site.
All money left at these grave sites is eventually collected and the funds are used to maintain the cemetery or paying burial costs for indigent veterans.
DATE: Oct. 21, 2017     
TIME: 10:30 A.M.
PLACE: 2200 East John Sevier Highway, Knoxville, TN 37920
For those who ride motorcycles, there will be two rides to the cemetery.
RIDE #1: Kickstands up at 9:00 A.M from Cracker Barrel Exit 8 off I-81. Road Captain is SpYderman 423-231-9550 
RIDE #2: Kickstands up at 9:45 A.M. from Crackel Barrel Exit 398 off I-40. Road Captain is Hink 865-771-3882
For more information, contact Sky Raider at 865-607-2633 or  www.combatvets18-3.com
Source: Combat Veterans Motorcycle Association 18-3
Share:
---
Categories: A&E News, Military and Defense
Tags: Veterans
---