Paybookclub Cash for Content Social Network is Giving Away a Million Shares This Christmas
Press Release
•
updated: Dec 20, 2016
The shares come with free membership of this new social network on mobiles that rewards its members in cash.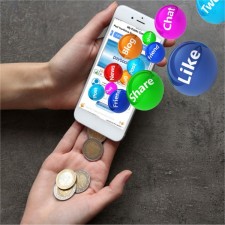 Birmingham, United Kingdom, December 20, 2016 (Newswire.com) - Capexsales Ltd, based in the West Midlands, United Kingdom, has launched a worldwide "Sign Up A Million Members" campaign for the new Paybookclub Cash For Content social network on mobile phones. The offer for free membership and a share each for the first million members is being made as offered in the Terms of Service of Paybookclub, available at its website http://paybook.club.
Paybookclub Cash For Content App, which can be downloaded free from Google Play, APP Store and the website, is a feature rich social network on mobiles where one can monetize content in posts. Users will also be rewarded in cash for likes, shares and comments as well as for the time spent on the network. First million members will also receive privileges like a loyalty bonus and others to be announced in the future.
In the words of Shred Pillai, architect of the concept, "An average dude on any social network is like a kid who is thrilled to take his new ball to the beach to show it off. Soon everyone else is hitting it around and having fun while the candy crush guy makes all the money on the side. Paybookclub Cash For Content is where the kid who owns the ball gets at least a candy for sharing it. Paybookclub will eventually be the global marketplace for content where millions will find gainful employment for a lifetime."
Amit Verma, CEO of Innovellent Technologies, the software partner of Paybookclub, has this to add, "Paybookclub offers highest security to members with Fingerprint/Iris scan and encryption. Paybookclub App is just a front end for a fast and highly scalable web application based on Mongo DB™, AWS™, sophisticated analytics and PUSH communication. One of the new features to be introduced is screening of full length movies."
About Capexsales Ltd:
Capexsales Ltd is a firm of marketing consultants for the Steel and Renewable Energy sector, venturing out to web based activities, in the booming mobile Apps arena. To learn more visit http://paybook.club/ or call us at + 44 7721170136
About Innovellent Technologies Ltd:
Innovellent Technologies Ltd is a startup based in Banglore, India, which has made a mark in the Mobile and Web Apps field, securing several high tech projects under their belt in a short time. To learn more visit www.innovellent.com, or call us at + 91 9591260704
Source: Capexsales Ltd
Related Media
Related Files