Patty the Miraculous Capuchin Monkey Celebrates 37th Birthday With a Grand Party at the Alpha Genesis Primate Center
Press Release
•
updated: Jun 2, 2020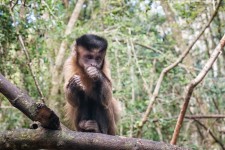 YEMASSEE, S.C., June 2, 2020 (Newswire.com) - Marshmallow treats, baked apples, blueberry ice pops, and many other delicious foods made for a grand celebration to mark an occasion that might very well put Patty the capuchin monkey in the record books, as the celebrated primate recently turned 37 years young at the Alpha Genesis Primate Center, located in Yemassee, South Carolina.
"Patty is one of the oldest monkeys in the world today. I am nearly 60 years old myself, and I still remember that bright summer morning in 1983 when Patty was born. Ronald Reagan was President, and Return of the Jedi topped the box office. I have known Patty throughout her whole life. She has always been an extremely sweet and highly intelligent primate. She still loves listening to the birds singing in the morning, and she still believes the Rolling Stones are the greatest rock and roll band of all time. She especially enjoys the song 'Jumping Jack Flash', which makes her dance and move a lot like Mick Jagger, only a bit more gracefully," said Alpha Genesis CEO Greg Westergaard.
The Alpha Genesis staff marked the important occasion with an abundance of specially prepared foods from the Alpha Genesis kitchen. Patty celebrated her birthday with her caretakers and 20 or so of her closest capuchin friends. From all accounts, the furry primates enjoyed the celebration, as did the attending humans who love and care for them. Westergaard attributes Patty's good health and longevity to the care she receives at Alpha Genesis and to her kind disposition and even temperament.
"The Alpha Genesis staff are fantastic. It is simply amazing how much love and concern they show for the animals, and Patty is a very sweet loving monkey who easily makes friends."
Media contact: GWprimate@alphagenesisinc.com
Source: Alpha Genesis Primate Center