Patients With Unsolved Diseases Could Be Treated Sooner Than Expected
Press Release
•
updated: Sep 21, 2017
A new center at Gladstone aims to find unforeseen uses for existing drugs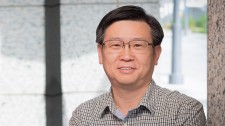 SAN FRANCISCO, September 21, 2017 (Newswire.com) - In the United States, developing a new pharmaceutical drug can cost between $160 million and $2.5 billion. This high price tag is one of the reasons many deadly conditions remain without an effective treatment.
When a drug is first designed, it's intended to target a specific disease. Scientists, however, have proven that many drugs can also help with other conditions.
Our new center will make it easier and faster to move potential drugs from the lab into clinical trials.

Yadong Huang, Gladstone Senior Investigator
Take, for example, a degenerative condition like Alzheimer's disease. It's caused by multiple factors acting in different areas of the brain at the same time. The disease is so complex that researchers have been struggling to find effective therapies to treat it.
Recently, Gladstone Senior Investigator Yadong Huang, MD, Ph.D., found that a drug used for years to treat heart failure also seems to reverse signs of Alzheimer's disease in both human and mouse brains.
This approach to repurpose drugs is becoming increasingly frequent and exhibits powerful potential. It drastically lowers the cost and shortens the timeline of drug development. FDA-approved drugs have already passed safety tests. As a result, when new uses for those drugs are identified, they can move to human clinical trials much faster.
Huang realized that he — and the rest of the scientific community­ — needs a strategy to use existing drugs to find therapies for unsolved diseases. Under his leadership, Gladstone created the new Center for Translational Advancement to help bring treatments to patients more quickly.
The center will provide crucial resources to develop repurposed drugs that target diseases of the central nervous system, the heart, and the immune system, leveraging major efforts in these areas at Gladstone. As the center's director, Huang aims to accelerate the conversion of basic research findings into efficient clinical candidates and, ultimately, medical applications.
"The lack of effective compounds in academic institutions currently makes it very difficult to apply discoveries from the lab to the clinic," said Huang. "Our new center will address these challenges by providing the necessary technical support to scientists, while also making it easier and faster to move potential drugs into clinical trials."
Three Steps to Repurposed Drugs
The new center will be developed in three phases. For the next two to three years, it will focus on the first step of building a database that researchers can use to identify new applications for existing drugs.
Huang and his collaborators will test as many as 15,000 known drugs and medically identified natural products on human brain cells derived from induced pluripotent stem cells (iPSCs). The result will be a public database that outlines how each drug affects human genes under healthy and disease conditions.
This database will be the most comprehensive to date.
"Our ultimate goal is for the new database to cover almost every available drug worldwide, including those currently in clinical trials," said Huang, who is also a professor at the University of California, San Francisco. "We want to know how each drug affects genes across the entire human genome in many types of cells."
By seeking collaborations within the scientific community, the center will make this tremendous tool available to researchers, as well as pharmaceutical and biotechnology companies.
Once a scientist identifies a drug that can be repurposed using the database, the drug's potential effect must be then tested on a new disease, both in animal models and human clinical trials. The second phase of the plan will be to establish the infrastructure needed to support this additional research.
The center will develop techniques to test the drugs in cell culture and animal models, to validate their effects on a certain disease.
This phase will be implemented along with Sheng Ding, Ph.D., a senior investigator at Gladstone. Ding is also dean of the School of Pharmaceutical Sciences at the Tsinghua University in Beijing, which has well-established drug discovery and translational platforms.
The third and final step will focus on promoting clinical trials that apply the repurposed drugs to other diseases. To do so, Huang and his team in the new center will establish partnerships with medical centers (like UCSF) and pharmaceutical companies in the U.S. and abroad.
The New Approach Could Help Treat Patients Sooner
Gladstone is supporting the creation of the new center, which plans to raise additional funds from the National Institutes of Health (NIH) and private donors to reach its goal.
"This center reinforces our belief in translational research as a means to improve treatments for people suffering from serious diseases," said Gladstone President R. Sanders Williams, MD. "We are proud that Gladstone's strong research and technological advances in iPSCs can be leveraged to provide valuable support to the scientific community."
The strategy guiding the center is to take advantage of FDA-approved drugs to expedite the development of new treatments that could improve the lives of countless patients.
Huang plans to use the same approach for his own research. Boosted by a newly funded grant from the NIH's National Institute on Aging, he will start with his project to repurpose a heart disease drug to treat Alzheimer's disease.
He hopes the new center will help turn this potential drug into a reality for patients sooner than expected.
###
Source: Gladstone Institutes
Additional Links