Patent Issued for Sewer Skewer Product
Villella Products, LLC Patents Sewer Vent Defroster
Press Release
-
updated: Jul 19, 2017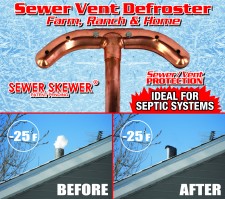 PELICAN RAPIDS, Minn., July 19, 2017 (Newswire.com) - Villella Products, LLC recently announced an official issuance of a patent for the Sewer Skewer, an anti-ice build-up system for roof vent pipes, by the U.S. Patent Office.
The Sewer Skewer, issued U.S. Patent No. 9,719,716, uses copper technology and heat from the sun to free sewer vents from ice blockages that cause harmful sewer gas buildup in homes during low temperatures.
"The patented Sewer Skewer is a necessity for homeowners in all sub-zero climates," said Larry Villella, President and Founder of Villella Products, LLC. "It's easy to install at a minimal cost and 100 percent effective in protecting homes from sewer gas backup at even the coldest of temperatures."
Homeowners can simply drop the copper t-pipe into any size sewer vent and the heat from the pipe will keep their sewer vents free of ice, even at temperatures as cold as -25 degrees. The Sewer Skewer can be left in year-round, so there is no risk of climbing on the roof during icy months.
Villella Products, LLC launched its line of Sewer Skewers in July of 2016 and the product has already hit shelves in retailers such as Ace Hardware, TrueValue, Bomgaars, Tractor Supply Co. and Acme Electric. The product can also be purchased at www.SewerSkewer.com and on Amazon.
About Villella Products Co.
Villella Products, LLC is a family-owned business located in Pelican Rapids, Minnesota, and the manufacturer of the Sewer Skewer. The company is owned and operated by Larry Villella, a Vietnam Era veteran. Proceeds from the Sewer Skewer support www.funforveterans.com.
Contact: Inventor - Larry Villella at 701-371-2327 or lvillella@aol.com
Source: Villella Products, LLC
Share:
---
Categories: Regional Business News, Small Business, Water, Sewage, and Septic Systems, Patents and Copyright, Home
Tags: anti-ice buildup system, farm, hardware stores, ice blockages, ranch supply, roof vent pipes, sewer, sewer gas buildup, sewer skewer
---