Pat Zarodkiewicz Joins Executive 1 Holding Company Board of Advisors to Guide Value to Federal Government Decision Makers
Press Release
•
Feb 1, 2023
Former Senior Executive Service member and Administrative Assistant to the Secretary of the U.S. Air Force Will Advise CORAS and HumanTouch's Expansion within the Defense and Federal Markets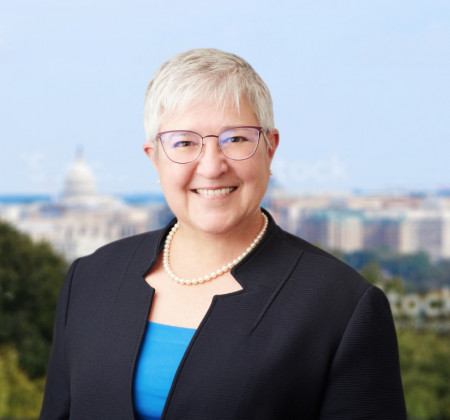 MCLEAN, Va., February 1, 2023 (Newswire.com) - Executive 1 Holding Company (EX1) is proud to announce that Pat Zarodkiewicz, a retired Senior Executive Service (SES) member with nearly 34 years of experience in the Department of the Air Force (USAF), has joined its Board of Advisors. In her final USAF position as the Administrative Assistant (AA) to the Secretary of the Air Force (SAF), Ms. Zarodkiewicz provided advice to the SAF and Chief of Staff on executive personnel and Headquarters management, led an organization responsible for over $5.6 billion annually, and supported 37,000 people. As the USAF's Senior Security Official, she led the Air Force's insider threat program, information, personnel, and industrial security policy, and provided oversight of Special Access Programs.
"My mission as Board Advisor is to bring my problem-solving perspective and ask the questions that decision-makers need to know," Ms. Zarodkiewicz said. "My experience is helpful because I haven't forgotten what that decision-making process feels like, and I can think and approach risk differently and present a balanced case for building stronger and more innovative integrations and solutions."
"Executive 1 is honored to welcome Pat to our Board of Advisors. She shares our customer-centric, value-add vision providing solutions and software that are focused on mission outcomes," said Moe Jafari, EX1 CEO. "Pat's direct experience and insights, as a decision-maker, and working with other decision-makers across the Air Force, DoD, and federal-wide is paramount as our investment companies evolve. 2023 promises to be one of opportunity and mission advancement as we engage with leaders to provide best-in-class decision solutions and software to government leaders."
In addition to EX1's Advisory Board, Ms. Zarodkiewicz serves on the Board of Directors for several large and small businesses, as well as the Aerospace Corporation, and is an advisor to the Defense Business Board. She remains committed to bringing her expertise and experience to organizations she recognizes as critical to the success of the DoD enterprise and the Intelligence Community.
Ms. Zarodkiewicz started with the Air Force as an intern and held increasingly responsible positions in financial management at base, MAJCOM, and in the Pentagon, culminating as the Principal Deputy Assistant Secretary, Financial Management & Comptroller. Her leadership was recognized with three Presidential Rank Awards and numerous other awards.
About EX1
EX1 is a private holding firm that includes Plasticity, Inc., HumanTouch, LLC, CORAS (SaaS), and Docugraph. Continued EX1 investments in Ai/ML/NLP and software-as-a-service (SaaS) positions the company portfolio to lead in these technologies.
Source: Executive 1 Holding Company