Parsons at the New School's Open Campus and CreativeLive Partner to Offer New Graphic Design Curriculum Online
Press Release
•
updated: Oct 30, 2017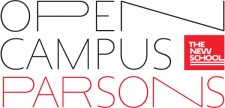 NEW YORK, October 30, 2017 (Newswire.com) - ​CreativeLive today announced a new partnership with Parsons School of Design at The New School's Open Campus. The online education company and renowned art and design school are collaborating to offer an exclusive online Graphic Design learning path targeted towards aspiring graphic designers who want to learn the essentials of graphic design from top-name instructors. The New School, based in New York City, is the only comprehensive university with a world-renowned art and design school at its heart, Parsons.
The 11-course curriculum introduces aspiring Graphic Design students to several key areas of study, including: Intro to Typography, Basics of Adobe Creative Suite, Responsive Design, Brand Building, and How to Build Your Portfolio & Confidence. Instructors include some of the most well-known names in the industry from Jessica Helfand, Michael Beirut, and YuJune Park.
"We've partnered with Parsons School of Design to hand-pick the perfect bundle of classes aimed at anyone who is ready to explore graphic design. Our focus is on those who are looking to better understand the field, enjoy the flexibility of doing it online, and also want the prestige of learning from faculty at one of the best design schools in the world," states Content Producer at CreativeLive, Jim Catechi.
CreativeLive believes that there is a creator in all of us, and offers accessible students tools to take their ambitions to next level—whether they're looking to launch a new business or simply develop a new skill. CreativeLive connects participants with the world's most inspiring visionaries to help further their creative path.
Parsons Instructor YuJune Park said, "The Parsons x CreativeLive bundle was created to reflect our vision for the 21st century, contemporary communication designer—one grounded in the foundational principles of our field, who works across platforms to create work with awareness and passion. Our strongest hope is that students will leave the course with a robust introduction to Communication Design and the skills, tenacity and curiosity to move forward in their practice as designers."
​
The curriculum is now available online at www.creativelive.com/parsons.
About Open Campus at The New School
Open Campus is the innovative approach to continuing, professional, and online education at The New School, a progressive university in New York City committed to challenging convention. Open Campus gives you access to our extensive resources and a community of creative disruptors, entrepreneurs, and individuals hungry to advance their practice, their fields, and the world itself. Learn from professionals leading their industries and moving the needle on art and design innovation with Parsons School of Design at Open Campus. In flexible programs in disciplines including Interior Design, Graphic and Digital Design, and Business of Design, our diverse students develop new skills and professional networks through courses with degree-level rigor, offered on schedules suited to their individual needs and goals.
About CreativeLive
CreativeLive is the world's leading creative education platform, with more than 10 million students consuming more than 2 billion minutes of video across its online channels. Featuring classes in photography, video, design, music, craft and entrepreneurship, CreativeLive's roster of teachers draws from the world's top experts: Pulitzer-, Grammy, Oscar winners, New York Times bestselling authors, thought leaders and legendary entrepreneurs. Learn more at creativelive.com.
Source: CreativeLive
Related Media