Parental Alienation Lobby Day Draws Bipartisan Support and Musician, Curtis Lee Putman
Parental Alienation Awareness Lobby Day & Rally is scheduled for April 25th in Lansing, MI
Press Release
-
updated: Apr 19, 2017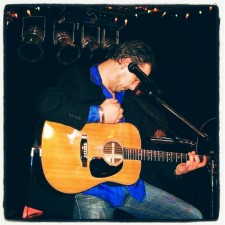 Lansing, MI, April 19, 2017 (Newswire.com) - April 25th is Parental Alienation Awareness Day in the state of Michigan, as signed in a proclamation by Gov. Rick Snyder and Congresswoman Brenda Lawrence.  Hostile Aggressive Parenting Awareness (HAP Aware) and Michigan Fathers' Rights Movement are pleased to support constituents by organizing a lobby day to discuss opportunities for legislators to support the family courts in combating this issue and protecting Michigan's children of divorce. 
Singer / Songwriter, Curtis Lee Putman, announced his support of the rally this week as well, offering his own story on parental alienation and a musical performance.
"It's an honor to be part of this rally. Parental Alienation is one of the cruelest forms of child abuse, and arguably the least understood. Hopefully through awareness and accountability, we can force the necessary change in the family court system to end the enablement and encouragement by the system thats sole focus should be protecting children from abuse," Putman said.
As this is a bipartisan issue, HAP Aware and Michigan Fathers' Rights Movement are pleased to have the support of Representatives Jim Runestad (R-White Lake), Tim Greimel (D-Auburn Hills) and Jim Tedder (R-Clarkston) who will be joining the rally and holding a press conference on the Capitol Steps (April 25 beginning at 1:45pm ET).
To register for this free event, please visit bit.ly/2017rally
About Hostile Aggressive Parenting Awareness
HAP Aware (Hostile Aggressive Parenting Awareness) is an advocacy group created for knowledge-sharing and collaboration for parents and professionals who are motivated to advocate for a child's right to access all of their loving parents, siblings and extended families. HAP Aware aims to advocate for children at Municipal, State and National levels by providing information, education and engagement activities for legislatures, family law, family courts, mental health professionals, parents and families. #ChildrenDeserveTheirVillage #BeTheChange
About Michigan Fathers' Rights Movement
The Fathers' Rights Movement of Michigan (TFRMM) is proud to be co-hosting this important event. Despite the gender specific title of "Father" in The TFRM name, TFRM is a movement whose members, both men and women, are interested in seeing an equal custody presumption in child custody cases. We advocate for shared parenting and parental rights. Our belief is that with two fit, able, and willing parents, children should not be restricted by a parent or court system from the equal access to both of their parents.​
Source: HAP Aware | Michigan Fathers' Rights Organization
---
Categories: Children's Issues, Divorce, Judicial Branch/Courts, Child Abuse, Family Law, Judges
Tags: child abuse, children, equal parenting, family courts, family law, friend of the court, judges, psychology
---