Parade's New Carrier Procurement Tool Helps Brokers Uncover the Most Active Carriers on Every Lane in America
Press Release
•
Sep 27, 2023
Parade combines detailed FMCSA inspection and proprietary data to recommend the best carriers on every lane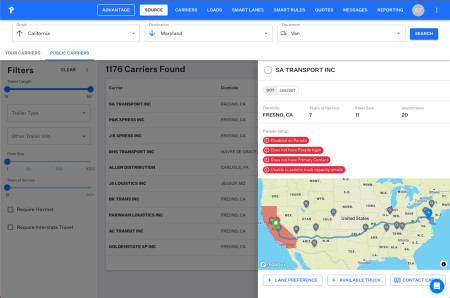 SAN FRANCISCO, September 27, 2023 (Newswire.com) - Parade, the leading Capacity Management solution for freight brokers, today announced the launch of its powerful new carrier procurement tool that leverages proprietary data and advanced AI to identify the most active carriers on every lane in America. This innovative solution further expands the way brokers manage and grow their carrier base – providing a robust platform that combines extensive carrier data inspection, carrier lifecycle management, and efficient lead generation.
As an expansion of Parade's Source product, the new feature is designed to address the unique challenges freight brokers face in today's rapidly evolving carrier procurement landscape. By integrating detailed FMCSA inspection data with Parade's proprietary analytics, the new tool provides brokers with an unparalleled view of carrier activity on any lane in the continental U.S. This empowers brokers to procure new capacity, generate new leads, and confidently make more informed decisions.
Using cutting-edge AI, Parade broker customers will have access to lane predictions generated from an AI model trained on publicly available data. The feature offers an interactive map to confirm carriers' stated routes with inspection reports and in-depth fleet data to ensure they have the necessary equipment.
"Our expanded Source tool is a game-changer for freight brokers," said Lindsay Watt, VP of Product at Parade. "Our customers have told us that when they're covering a load, they need access to the carriers who really do that lane - not just carriers who say they might. With this update, we're delivering exactly that: the best carriers who really haul on each lane, for any lane in America - instantly at your fingertips."
Beyond its powerful search capabilities, the new carrier discovery feature offers comprehensive carrier lifecycle management features, including streamlined carrier qualification processes and advanced fraud mitigation tools. By analyzing carriers' equipment and travel history, the enhancement minimizes the risk of fraud and double brokering, providing a safer, more reliable platform for brokers.
With the new procurement feature, Parade continues to lead in its commitment to leveraging technology to solve the industry's most pressing challenges. Integrated with their TMS, brokerages can add carriers, enter quotes, and digitally book loads within a single, easy-to-use platform.
The new procurement feature will be made available to Parade freight broker customers as part of its Capacity product plan. For more information, visit www.parade.ai.
Source: Parade