PAEnergyRatings.com Provides Consumer Ratings and Pennsylvania Electricity Rates
Press Release
•
updated: Oct 17, 2017
New Web Site Makes it Easy to Compare Electricity Rates in Pennsylvania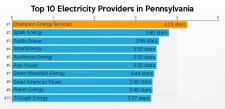 Philadelphia, PA, October 17, 2017 (Newswire.com) - Electricity Ratings, LLC has launched PAEnergyRatings.com to provide prices, customer ratings, and all the information energy shoppers need to compare the best electricity providers in Pennsylvania.
The site helps customers shop for electricity suppliers in the deregulated areas of Pennsylvania, including the major cities of Philadelphia, Pittsburgh, Allentown, Bethlehem, and Reading. Customers can read reviews and compare service in every utility footprint, including PECO, PP&L, Metropolitan Edison, Duquesne Light, West Penn Power, West Penn, and UGI. Pennsylvania residents and businesses shopping for energy choice will find energy suppliers who can provide the best rates and highest value for their money.
PAEnergyRatings.com is more powerful than the state-run PAPowerSwitch website as PAEnergyRatings.com is a clearinghouse for electricity consumers looking for information to help them evaluate energy providers based on the features they consider most important to them. The site offers access to the rankings and reviews of all the major Pennsylvania electricity suppliers by actual customers. Rankings based on criteria used in evaluating major suppliers include price, green energy access, and customer experience including customer incentive and rewards programs and over 6000 customer reviews. It's all the information that a Pennsylvania resident needs to find the best Pennsylvania electricity rates.
Using Big Data for Big Savings
PAEnergyRatings.com leverages big data to educate and help customers maximize their savings. PAEnergyRatings.com features historical average electricity rate charts, as well as average electricity bill amounts and average electricity usage by city. Based on EIA's data for May 2017, Pennsylvania residents are paying an average of 14.5 cents per kWh. Comparing rates and switching may save Pennsylvanians up to 60% on their fall and winter energy bills. ​
About Electricity Ratings
PAEnergyRatings.com is the destination web site for Pennsylvania residents and business owners to share their opinions and have a voice in the Pennsylvania Deregulated Energy Market. Electricity Ratings, LLC helps people make informed buying decisions through its consumer reviews platform and is a reliable source for valuable consumer insight, advice, in-depth energy company service evaluations, and personalized recommendations. Since 2009, we've helped over one and a half million shoppers find the best energy providers and rates. Electricity Ratings, LLC operates similar consumer energy shopping websites, in Ohio, New Jersey, Connecticut, New York, and Texas.
###
PAEnergyRatings.com
(866) 349-6052
45 E City Ave
​Bala Cynwyd, PA. 19004
info@PAEnergyRatings.com
https://www.PAEnergyRatings.com/
Source: Electricity Ratings, LLC
Related Media
Tags
Related Files
Additional Links