Pacific Book Review Says Children's Book 'Warriors Eat Alphabet Soup' is a Must-Have for Any Child Dealing With a Health Issue
The children's book promotes empathy, reduces fear of sickness, and aids parents during a difficult time.
Press Release
-
updated: Sep 4, 2018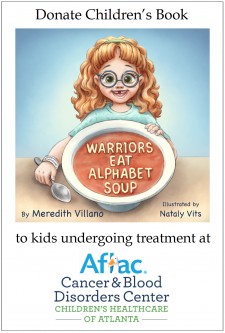 NEW YORK, September 4, 2018 (Newswire.com) - The reviews have been overwhelmingly positive for children's book "Warriors Eat Alphabet Soup." The book was written by Meredith Villano and illustrated by Nataly Vits. Published in 2017, "Warriors Eat Alphabet Soup" centers around the character Judy, a young girl who likes soup and loves to sing and dance. When she starts feeling ill, her family and friends remind her she is strong, and she hears the clickity-clack of her tap shoes dancing "The Warrior Dance." The book recently received a terrific review from Pacific Book Review.
"Meredith Villano wrote a perfect children's book, especially for any youngster afflicted with a disease or in need of hospitalization. This book should be in the gift shop of every children's care facility, as well as being a great 'get-well' gift for any child with an illness. Inherent with a positive attitude and all good thoughts, those needing to heal will become warriors as they gain strength from Judy and her friends."  – Carolyn Reidy, Pacific Book Review. The full review is available on the Pacific Book Review website.
The book, which benefits any child facing adversity, has garnered positive attention from the medical community. Among numerous reviews, Neil Ead, RN, MSN, CPNP, writes, "'Warriors Eat Alphabet Soup' is a must read for any child who is going through a traumatic hospitalization or illness. This book provides a message of support, encouragement and an opportunity for parents to talk about these events with their children."
As a result of the important and powerful message in the book, Aflac NY Metro/Long Island has launched a GoFundMe campaign to raise funds to purchase books for more than 1,500 pediatric cancer patients seeking treatment at Aflac Cancer and Blood Disorders Center of Children's Healthcare of Atlanta. Those wishing to support this initiative can visit the campaign page.
To read more reviews of "Warriors Eat Alphabet Soup" and to purchase, visit Amazon and WarriorsEatAlphabetSoup.com.
About Author Meredith Villano
Meredith Villano is a children's theater playwright and director. She was a production coordinator and promotions manager of several Emmy-nominated television series as well as a digital media executive. Villano is also a nonprofit founder, activist, and entrepreneur with a focus on helping families when they become sick and injured. This is her first children's book. For more information, visit WarriorsEatAlphabetSoup.com. ​
Media Contact:
Meredith Villano​
​Email: meredith@warriorseatalphabetsoup.com
Source: Warriors Eat Alphabet Soup
Share:
---
Categories: Books, Children's Issues
Tags: Aflac, Aflac Cancer and Blood Disorders Center, child illness, child injury, children's books, children's hospital, children's medical center, get well gift, get well gifts for kids, gofundme, parenting, pediatric cancer
---