Pace® Receives Environmental Business Journal Award for Social Contribution
Press Release
•
Feb 22, 2023
Company recognized for employee engagement in fundraising efforts for Water Mission International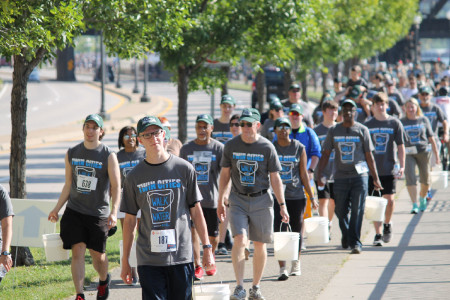 MINNEAPOLIS, February 22, 2023 (Newswire.com) - The Environmental Business Journal® (EBJ), an independent business research publication that provides strategic market intelligence to the environmental industry, has honored Pace®, a science and technology company, with a Business Achievement Award for Social Contribution in 2022.
"In a rather tumultuous year of economic ups and downs in 2022, a number of companies set themselves apart with performance, transactions, or projects that merit special consideration," said Grant Ferrier, editor of Environmental Business Journal and chair of the selection committee. "Pace® is no different, but also found time to put their efforts toward helping others to earn this recognition."
The Social Contribution Award recognizes Pace® for its long-standing partnership with Water Mission International (WMI). WMI is a non-profit engineering organization that works to develop, implement, and maintain sustainable technologies to provide safe drinking water systems, sanitation, and hygiene solutions to developing nations and disaster areas. Pace® and its employees began participating in the organization's Walk for Water campaign every year since 2016 to raise funds - and awareness - for their mission.
"Pace® has supported its mission of 'working together to protect our environment and improve our health' through both the important work we perform in our labs and through our partnership with Water Mission and others," notes Eric Roman, Pace® CEO. "Pace® people make the difference. This award honors them."
The EBJ has recognized Pace® for the last three consecutive years. Previous honors include the Mergers and Acquisitions Award and the New Practice Area Achievement Award for the Pace® COVID-19 wastewater surveillance testing service.
The 2022 EBJ awards will be presented live and in-person at the EBJ Business Achievement Awards banquet at Environmental Industry Summit XXI on March 22-24, 2023, in San Diego, along with CCBJ Business Achievement, Lifetime Achievement, and 50-Year Company anniversary awards.
Pace® is a portfolio company of Leonard Green & Partners and Los Angeles-based Aurora Capital Partners.
About Environmental Business Journal
Environmental Business Journal has been published since 1988 by Environmental Business International Inc., an independent research and publishing company focused on the environmental and climate change industries.
About Pace®
Pace® makes the world a safer, healthier place. For decades, Pace® people have been committed to advancing the science of the pharmaceutical and biotechnology industries in our Life Sciences laboratories and supporting businesses, industries, consulting firms, government agencies, and more through our Analytical Services laboratories. Pace® offers local-level service backed by a national laboratory network. For customers with in-house labs, Pace® provides a range of professional services to keep their operations moving forward. Pace® people work in partnership with customers by providing the service, science, and the data they need to make critical decisions that benefit us all. More at pacelabs.com.
###
Source: Pace
Related Media