Over 200 Employers Named as the Best Workplaces for Commuters in 2018
Press Release
-
updated: Jan 31, 2018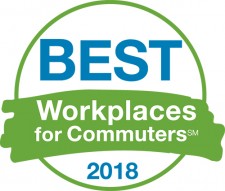 Tampa, Florida, January 31, 2018 (Newswire.com) - Announcing today the 2018 Best Workplaces for Commuters (BWC) annual list of U.S.-based employers who meet the program's National Standard of Excellence. The list includes companies like Google, Intuit, Inc., IBM, LinkedIn, Bayer US, LLC, and Salesforce, along with universities such as Harvard University, University of Miami, and Stanford University. The list also includes Best SITES, such as Hacienda, Britannia Oyster Point and Access Tysons. The 2018 list of employers receive national recognition for offering exceptional commuter benefits to more than 725,000 employees.
View the complete list of 2018 Best Workplaces for Commuters at: https://www.bestworkplaces.org/list/members/
"To qualify to be among the nation's Best Workplaces for Commuters, employers must provide employees with access to commuter-friendly programs, such as discounted transit passes, telework, secure bicycle storage, and emergency ride home programs," said Julie Bond, Program Manager for Best Workplaces for Commuters and Senior Researcher at the Center for Urban Transportation Research. "Not only are these employers changing how America commutes, they know that it makes good business sense to provide commuter programs to employees." In addition to surpassing employee expectations, employers adopt commuter programs to attract and retain talent, manage facility costs, leverage employee benefits, and meet corporate sustainability commitments.
To qualify for the national designation, workplaces must submit an online application annually, and demonstrate that they meet the BWC National Standard of Excellence. The Best Workplaces for Commuters program offers awardees access to a wide range of support services to promote travel choices other than driving alone in the rush hour, including peer-to-peer exchanges, webinars, benchmark surveys, and guidebooks. These resources help workplaces understand how commuter programs benefit their organizations and employees.
About Best Workplaces for Commuters
Best Workplaces for Commuters is the national authority on recognizing and assisting workplaces that provide exceptional commuter benefits to employees. More than a recognition program, Best Workplaces for Commuters provides the necessary support needed to create and sustain an employer-provided commuter benefit program, including online assessment tools, advisory services, case studies, tool-kits, web-based tools, webinars, and training. The Best Workplaces for Commuters program is managed by the Center for Urban Transportation Research at the University of South Florida with support from the National Center for Transit Research and the Florida Department of Transportation. For more information: http://www.bestworkplaces.org/ ​  #BWC2018
Media Contact:
​Julie Bond
​Phone:  813.974.9799
​Email: bond@bestworkplaces.org
Source: Best Workplaces for Commuters
Share:
---
Categories: Business News, Transportation, Local News, Colleges and Universities, Human Resources
Tags: Best Workplaces, Bus, Commute, Commuter Benefits, Employee Benefits, Employer Recognition, Employers, Environment, Parking, Train, Transportation
---