OurFamilyWizard Releases a Major New Tool: Calls
Press Release
•
Sep 26, 2023
The leader in co-parenting technology is unveiling a new feature that allows co-parents and children to connect with each other through audio or video calling.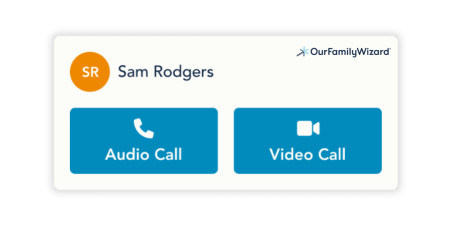 MINNEAPOLIS, September 26, 2023 (Newswire.com) - OurFamilyWizard, the world's leading provider of co-parenting technology, announced today that it is unveiling a new feature, Calls. For long distances, midweek visits, or when safety concerns prevent in-person visits, documented audio and video calling offers an easy solution for virtual visitation, virtual parenting time, or other conversations.
"We are very excited to add this new feature to our suite of co-parenting tools," said Nick VanWagner, CEO of OurFamilyWizard. "Our goal is to meet the unique communication needs of co-parenting families in one centralized, secure place. With Calls, co-parents and their children have a simple and safe method for connecting in real time when apart."
All calls are automatically documented, tracking which parent starts the call, how long it lasts, and when anyone turns off their camera or microphone. Call recordings and transcriptions are coming soon.
Calls are based on consent: Co-parents can only place a call after both have specifically granted their consent. Calls are placed directly through the app, so they're always secure—and co-parents never need to share their phone numbers.
Earlier in 2023, the company unrolled a brand refresh to reflect its continual investment in improving its features, including recent Calendar improvements that make it easier to request a schedule change and an update that allows OFWpay™ payments to process more quickly. OurFamilyWizard's acquisition of Cozi in 2022 created yet another avenue through which the brand can support families as they organize and coordinate family life. 
About OurFamilyWizard 
OurFamilyWizard is the world's leading co-parenting communication platform, offering tools for families to support more seamless and successful parenting across separate homes. Since 2001, more than one million parents and family law practitioners have trusted OurFamilyWizard's co-parenting platform to help divorced or separated families effectively manage audio and video calls, shared calendars, expenses, messaging, files, and other critical family information. These tools can reduce the risk of parents going back to court. 
Source: OurFamilyWizard