Ottobock Partners With Eurovision Star Sam Ryder to Create Empowering Anthem Celebrating Stories From Disability Community
Press Release
•
Jun 15, 2023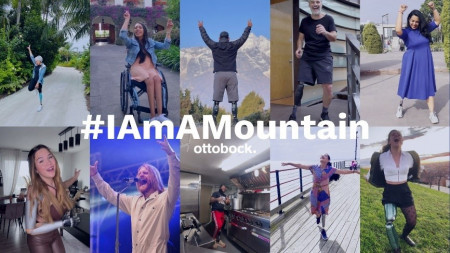 BURLINGTON, Ontario, June 15, 2023 (Newswire.com) - On June 13, global health-tech brand Ottobock launched #IAmAMountain: a global initiative destined to unite and empower people with disabilities across the world via the life-celebrating anthem 'Mountain,' written specifically for the campaign by Eurovision's Sam Ryder.
Presented for the first time at the grand finale of this year's Eurovision Song Contest on May 13 in Liverpool, Sam Ryder's "Mountain" honours the fearlessness it takes to get to the other side of adversity. Dubbed by many as the highlight of the evening, Sam Ryder performed alongside Queen drummer Roger Taylor as performers with disabilities took the stage and made Eurovision history in front of over 160M viewers.
When writing "Mountain" for this campaign, Sam Ryder was inspired by the personal stories of people who use Ottobock orthotic, prosthetic, and mobility devices. He comments, "The song 'Mountain' celebrates perseverance and is intended to give courage to all who need it. It is all about growing in the face of loss, grief, or darkness, and becoming as strong as a mountain. And then looking back with pride and new zest for life on how you have overcome what life has thrown in your way."
The #IAmAMountain campaign brings together stories from 26 Ottobock users from 14 countries. As part of the initiative, they are sharing their personal moments on social media - including the highs and lows. Alongside Sam Ryder, they will be inviting everyone to join in the conversation by asking, "What have you overcome?" - calling for others to share their personal experiences under the hashtag #IAmAMountain.
Martin Böhm, Ottobock's Chief Experience Officer, said, "Sam Ryder is the perfect voice and partner for our campaign. His involvement will help our community overcome so many barriers, just as his Eurovision performance was a moment of real visibility and representation for people with disabilities in front of an audience of millions. We will be taking this approach to the next level with our #IAmAMountain campaign. By inviting people with disabilities to share their stories, we hope to change society's perception and instead, celebrate all the things that are possible in life. This is exactly what Ottobock is all about."
Ottobock looks forward to bringing more visibility and representation in mainstream media through the #IAmAMountain campaign and beyond.
About Ottobock
For more than 100 years, Ottobock has been developing innovative treatment solutions for people with reduced mobility. Ottobock works to improve freedom of movement and quality of life and helps people achieve greater independence. This is supported by more than 9,000 employees. Through their ability to innovate, their outstanding technical solutions and services in the fields of Prosthetics, Orthotics, NeuroMobility and Patient Care, they enable people in 135 countries to live their lives in the way they want to. Founded in 1919, the company continues to set new standards and drive the digitalisation of the industry - together with its partners, medical supply companies and research institutions - as the global market leader in wearable human bionics. Since 2018, Ottobock has been applying its expertise in biomechanics to exoskeletons for ergonomic workplaces. The international activities of the company are coordinated from its headquarters in Duderstadt in Lower Saxony in Germany. Ottobock has been supporting the Paralympic Games with its technical know-how since 1988. The Canadian Ottobock branch is located in Burlington, Ontario, Canada.
Source: Ottobock North America
Related Media