Ottawa Scientologists March to Raise Awareness on Drugs
Press Release
•
updated: Nov 6, 2017
Volunteers from the Church of Scientology Ottawa call for drug education and prevention to combat Canada's deadly opioid epidemic.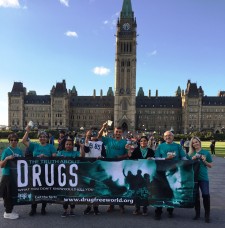 OTTAWA, Ontario, November 6, 2017 (Newswire.com) - Volunteers from the Church of Scientology Ottawa march around Parliament every week to promote drug education as a vital component in Canada's drug prevention policy.
Overdose has taken the lives of thousands of Canadians since the turn of this century — lives that could have been spared.
According to Public Safety Canada, created in 2003 to ensure coordination across all federal departments and agencies responsible for national security and the safety of Canadians, "the earlier the onset of any drug use, the greater the involvement in other drug use and the greater the frequency of use."
Further, the agency found certain key attitudes and behaviors when it comes to drug abuse:
Youths who express positive attitudes to drug use and/or associate with peers who engage in alcohol or substance abuse are more likely to engage in the same behavior.
Onset of drug use prior to the age of 15 is a consistent predictor of later drug abuse.
The prevalence of self-reported delinquent behavior among high school students is highest among those who report drug consumption.
With three decades of experience in drug education and prevention, the Church of Scientology and Scientologists spearhead actions in cities across the globe to bring effective drug education to millions, through government agencies, community groups and educational institutions. In his research, Scientology Founder L. Ron Hubbard noted: "The single most destructive element present in our current culture is drugs."
The Church of Scientology and its members support the Foundation for a Drug-Free World, a secular nonprofit corporation that empowers youth and adults with factual information about drugs so they can make informed decisions to live drug-free. The Foundation's Truth About Drugs campaign is one of the world's largest nongovernmental drug education and prevention initiatives. Thanks to this support, the Foundation provides drug education booklets, videos and educator guides free of charge to teachers, mentors and civic and community leaders.
According to the United Nations Office on Drug Abuse and Illicit Trafficking, "Every dollar spent on prevention can save governments up to 10 dollars in later costs."
For more information on the drug education and prevention programs of the Church of Scientology visit the Scientology Newsroom.
Source: ScientologyNews.org
Related Media