Oshyn Named by Great Place to Work (R) Ecuador as a Best Place to Work in Technology
Press Release
•
Oct 2, 2023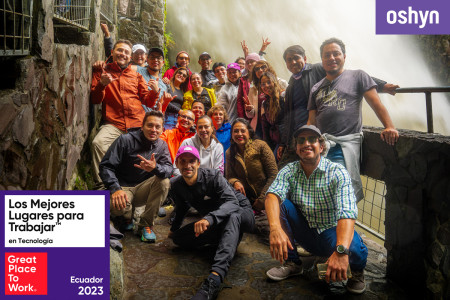 LONG BEACH, Calif., October 2, 2023 (Newswire.com) - Oshyn, a digital experience implementation agency specializing in Sitecore, Optimizely, and Adobe Experience Cloud, announced today that its Ecuador office has been recognized as a Best Place to Work in Technology for 2023.
"We're very proud to be ranked in the top 10 as a Best Place to Work. This recognition is evidence of Oshyn's commitment to the professional development and well-being of our employees," says Maria Isabel Ramirez, Oshyn's VP of HR and Finance. "We strive to provide a workplace culture that values innovation, diversity and employee satisfaction."
Great Place to Work Ecuador provides feedback to organizations by using employee surveys to gather insights and quantify the experience that staff has with their workplace. They define a great workplace as, "One where employees trust the people they work for, have pride in what they do, and enjoy the people they work with."
As one of the first technology companies to establish a presence in Ecuador, Oshyn has been at the forefront of shaping the country's tech landscape for over 15 years. Its inclusive environment allows employees to thrive and contribute to the tech industry.
Oshyn prioritizes creating a culture of growth and positivity, which is reflected in a commitment to providing employees with a multitude of opportunities for career development. These opportunities include:
To promote professional growth, Oshyn encourages employees to build technical and business skills by participating in training courses and obtaining certifications.
To increase team cohesion, Oshyn provides opportunities to connect outside the office including regular lunches, dinners, and excursions to beautiful locations around Ecuador.
To help employees build their professional profiles, Oshyn organizes events and facilitates attendance to relevant trade shows. These events offer employees the opportunity to network, learn, and give presentations on topics related to their career.
About Oshyn
Oshyn partners with some of the best brands and creative agencies in the world to create exceptional digital marketing solutions. For over 20 years, Oshyn has worked closely with dozens of marketing, design, and IT teams to deliver countless effective customer experiences in line with their business objectives. With over 60 developers, trainers, and analysts on staff certified in Sitecore, Optimizely, and Adobe Experience Cloud, they've built a stellar reputation working with top brands and creative talent.
Source: Oshyn