OrthoAtlanta Welcomes 2019 Pickleball Season With Spalding County Pickleball Association
Press Release
•
updated: Apr 3, 2019
Pickleball is one of the fastest-growing sports in the U.S. and OrthoAtlanta proudly serves as the official orthopedic and sports medicine provider to SCPA and its 18-court Spalding County Pickleball Complex, the second-largest in Southeast U.S.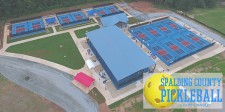 ATLANTA, April 3, 2019 (Newswire.com) - Spring heralds the start of the 2019 Pickleball Season and OrthoAtlanta orthopedic and sports medicine specialists is excited to promote pickleball, one of the fastest-growing sports in the U.S. OrthoAtlanta proudly serves as the Official Sports Medicine Provider of the Spalding County Pickleball Association (SCPA) and its state-of-the-industry 18-court Spalding County Pickleball Complex at Wyomia Tyus Olympic Park in Griffin-Spalding County, Georgia. As a multi-year sponsor of the SCPA, OrthoAtlanta actively participates in local, state, regional and national pickleball tournaments hosted by the nationally recognized pickleball association and facility in Griffin, Georgia.
Pickleball continues to experience annual double-digit participant growth and expanding interest across all age groups and demographics. In 2018, the Sports and Fitness Industry Association (SFIA) reported over 3.1 million U.S. participants, a 12 percent increase over the prior year. In its pickleball participant report, SFIA cited a record 1.57 million casual players (those who play 1–7 times per year) and 930,000 core participants (those playing eight times or more per year).
A racket game for all ages and abilities, pickleball is a cross between tennis, badminton and ping-pong. The game is played on a court smaller than a tennis court, with a net that is slightly lower. Players (singles or doubles) use paddles that are larger and more substantial than a ping-pong paddle to hit the pickleball, a plastic ball with holes much like a whiffle ball. Pickleball tournaments and pickleball clubs and associations are expanding rapidly across the country. Country clubs, recreational facilities and active lifestyle senior communities continue to build pickleball courts or modify existing tennis courts to get in on this fast-growing sport.
"Pickleball is a fun, fast-paced game, providing excellent aerobic exercise," said Todd A. Schmidt, MD, OrthoAtlanta orthopedic surgeon. "Pickleball offers active players a great way to build strength in the shoulders, legs, knees, back and spine." Pickleball paddles, once made exclusively of wood like ping-pong paddles, are today also offered in lightweight composite materials, including aluminum and graphite, improving player performance, easing arm fatigue and reducing stress on shoulders, wrists and elbow joints.
"OrthoAtlanta was quick to recognize the benefits of pickleball to players and their local communities," said Peter Phelps, president of the Spalding County Pickleball Association. "OrthoAtlanta physicians and staff were among our earliest supporters and continue to be some of our most enthusiastic, displaying continued commitment to our pickleball initiatives and a vision for safe and healthy pickleball throughout Georgia," cited Phelps.
Poised to meet or exceed last year's record schedule, SCPA 2019 tournaments thus far include the Doc Holliday Shootout (April 12-14), Spalding County Senior Games (April 24-25), Georgia State Games (May 17-19), Georgia Recreation and Parks Association (GRPA) Pickleball District Playoffs (Aug. 23-25), SSIPA East Championships (Sept. 17-20) and the Georgia Golden Olympics (Oct. 1–3). Additional events are also being considered.
OrthoAtlanta physicians take an active role in advancing education on safe pickleball practices, meeting with tournament teams and area pickleball clubs, including Sun City Peachtree in Griffin, Georgia. The OrthoAtlanta brochure Joint Strengthening Exercises for Pickleball provides easy-to-follow exercises complete with illustrations.
About OrthoAtlanta
OrthoAtlanta is one of the largest physician-owned orthopedic and sports medicine practices in the greater Atlanta, Georgia, area providing an integrated approach to musculoskeletal care. With 37 physicians serving in 14 offices and 450 employees, the practice provides the highest level of patient care for injury or deformity of muscles, joints, bones and spine.
Comprehensive operative and non-operative musculoskeletal care and expertise include sports medicine, arthroscopic surgery, hip replacement, knee replacement, neck and spine surgery, elbow and shoulder surgery, hand and wrist surgery, foot and ankle surgery, pain management, arthritis treatment, general orthopedics, work-related injuries and acute orthopedic urgent care. OrthoAtlanta patient services include on-site physical therapy, seven MRI imaging centers and workers' compensation coordination. OrthoAtlanta Surgery Centers in Austell and Fayetteville provide cost-effective, same-day surgical procedures in an accredited outpatient center.
Dedicated to the Atlanta metro area and all its communities, OrthoAtlanta proudly serves as the official sports medicine provider to many premier sports teams and events, including the Chick-fil-A Peach Bowl, Chick-fil-A Kickoff Game, BB&T Atlanta Open tennis, Atlanta Gladiators professional hockey, Clayton State University and numerous high school and community sports programs across the region. Learn more at www.OrthoAtlanta.com.
For additional information, please contact Pat Prosser, Public Relations Manager, at OrthoAtlanta, 678-996-7254, or via email pprosser@OrthoAtlanta.com.
About Spalding County Pickleball Association
The Spalding County Pickleball Association Inc. (SCPA) is a not-for-profit 501(c)(3) organization that was created to promote the sport of pickleball for the betterment of their community, the state of Georgia and the larger region. We are making a difference in our community, improving health and well-being through an active lifestyle, exercise and fitness and having a positive, genuine economic impact through enhanced sports tourism. We have one of the finest pickleball facilities in the entire nation and we have already acquired a national reputation for hosting quality tournaments in the South Metro Atlanta area of the State of Georgia, as well as the Southeast Region and the East Coast of the United States.
The SCPA has drawn sports tourism awareness and benefit, with almost 2,400 players plus spectators and companions, to Griffin-Spalding County and, thereby, generated almost $1.2 million of genuine economic impact for their community. This was accomplished in 17 months with 12 tournaments from June 2017 to October 2018.
Source: OrthoAtlanta
Related Media
Tags
Additional Links