OrthoAtlanta Stockbridge Open House Welcomes New Physician, Minoo H. Hollis, M.D., Orthopedic Surgeon Specializing in Foot and Ankle and Orthopedic Trauma
Press Release
•
updated: Feb 14, 2018
Stockbridge Area Chamber of Commerce, Plus Members of the Local Medical, Educational, and Business Community Welcome the OrthoAtlanta Foot and Ankle Orthopedic Surgeon.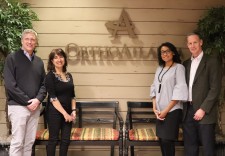 ATLANTA, February 14, 2018 (Newswire.com) - OrthoAtlanta orthopedic and sports medicine specialists recently welcomed its newest physician, Minoo H. Hollis, M.D., in an open house event held on January 30, 2018, at the OrthoAtlanta office in Stockbridge, Georgia. Dr. Hollis brings expertise in foot and ankle surgery and orthopedic trauma to patients in Henry, Clayton, and Spalding counties. Dr. Hollis' practice includes general orthopedics and orthopedic foot and ankle care. Nerve-related problems, including nerve pain, nerve entrapment, and compressive neuropathy are among Dr. Hollis' special interests.
Over 75 members of the local medical, business and educational community came together with the Stockbridge Chamber of Commerce to welcome Dr. Hollis to the OrthoAtlanta Stockbridge practice. Attendees included representatives from Piedmont Henry Hospital, Clayton State University, the Spalding County Pickleball Association, and many area physician practices and area businesses.
I am excited to be part of the OrthoAtlanta Stockbridge office. My practice is focused on the treatment of the foot and ankle, including neuropathy and nerve compression in the foot.

Minoo H. Hollis, M.D., OrthoAtlanta Orthopedic Surgeon, Foot & Ankle
OrthoAtlanta orthopedic surgeon, Dr. Todd Schmidt, provided opening remarks to the open house attendees. As stated by Dr. Schmidt, "OrthoAtlanta Stockbridge has proudly served the rapidly growing Henry County community for well over two decades with expert orthopedic and sports medicine care closer to home. Today, we are excited to introduce Dr. Minoo Hollis, an orthopedic surgeon with expertise in foot and ankle and trauma. Dr. Hollis brings her orthopedic expertise to our practice in service to the ever-growing Stockbridge community."
"After practicing orthopedic surgery as a solo-practitioner for many years, I am excited to join OrthoAtlanta Stockbridge," stated Dr. Minoo Hollis. "My practice is focused on the treatment of the foot and ankle. I am particularly interested in treating neuropathy and nerve compression or entrapment in the foot, and in the hand and wrist. I am excited to be part of an orthopedic practice that provides one-stop orthopedic care from initial exam, onsite X-ray, and MRI Imaging, to physical therapy and rehabilitation services."
The OrthoAtlanta Stockbridge office is located at Eagles Landing Parkway and Rock Quarry Road in the Piedmont Physicians Building. Appointments with Dr. Hollis may be requested by calling 770-506-4350, or via the Patient Portal on the OrthoAtlanta web site. For more information about OrthoAtlanta and Dr. Minoo Hollis, please visit orthoatlanta.com.
About OrthoAtlanta
OrthoAtlanta is the second largest physician-owned orthopedic and sports medicine practice in the greater Atlanta, Georgia area. With 39 physicians serving in 13 offices, the practice provides the highest level of patient care for injury or deformity of muscles, joints, bones, and spine. OrthoAtlanta offers convenient accessibility to a full range of musculoskeletal surgeons, specialists and patient services including on-site physical therapy, seven MRI imaging centers, and workers' compensation coordination. OrthoAtlanta Surgery Centers in Austell and Fayetteville provide cost-effective, same-day surgical procedures in an accredited outpatient center. Comprehensive operative and non-operative musculoskeletal care and expertise include sports medicine, arthroscopic surgery, hip replacement, knee replacement, neck and spine surgery, elbow and shoulder surgery, foot and ankle surgery, pain management, arthritis treatment, general orthopedics, work-related injuries and acute orthopedic urgent care.
Learn more at www.OrthoAtlanta.com.
For additional information, please contact Pat Prosser, Public Relations Manager, at OrthoAtlanta, 678-996-7254, or via email pprosser@OrthoAtlanta.com.
Source: OrthoAtlanta
Related Media
Tags
Additional Links