OrthoAtlanta Douglasville Welcomes New Physicians, Christopher Burket, MD, Sports Medicine, and Yolanda Scott, MD, Physiatry
Press Release
•
updated: Mar 20, 2018
Open house event attended by local medical, business and community leaders also celebrates remodel of OrthoAtlanta Douglasville location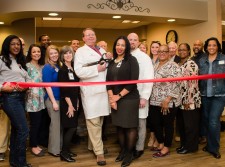 Atlanta, GA, March 20, 2018 (Newswire.com) - ​​​​​Welcoming two new physicians to its orthopedic and sports medicine practice, OrthoAtlanta Douglasville held an open house event for local medical, business and community leaders on March 15, 2018. In a ribbon-cutting ceremony conducted by the Douglas County Chamber of Commerce, over 65 members of the greater Douglasville area welcomed physicians, Christopher Burket, MD, and Yolanda Scott, MD, while also celebrating the remodel of the office located next to WellStar Douglas Hospital.
Orthopedic surgeon, Dr. Christopher Burket, fellowship trained in sports medicine, joined the practice in late November 2017. Dr. Burket's practice includes general orthopedics and sports medicine with a special interest in minimally-invasive shoulder, knee, hip and elbow arthroscopy. Skilled at treating shoulder instability and more advanced cases of rotator cuff repair, Dr. Burket is experienced in superior capsule reconstruction (SCR), a recently developed arthroscopic surgical technique used for the treatment of massive, irreparable rotator cuffs. Other areas of Dr. Burket's practice include knee ligament reconstruction, total knee and shoulder arthroplasty including reverse total shoulder replacement. Dr. Burket received his sports medicine fellowship at the Ochsner Sports Medicine Institute in New Orleans, Louisiana. Dr. Burket recently moved to the Atlanta area with his wife and two children. Since joining OrthoAtlanta, Dr. Burket serves as the team physician for Douglas County High School in Douglasville, Georgia.
We are excited to welcome new physicians, Dr. Christoper Burket and Dr. Yolanda Scott, to the OrthoAtlanta Douglasville practice.

Matthew Jaffe, MD, , OrthoAtlanta Orthopedic Surgeon
Physiatrist, Dr. Yolanda Scott, fellowship trained in physical medicine and rehabilitation (PM&R) and interventional spine, joined the Douglasville practice in early February 2018. Dr. Scott provides non-surgical orthopedic care, including non-surgical spine, musculoskeletal medicine, and functional medicine, to patients suffering muscular, nerve, joint, and tendon injuries. Her areas of interest include neck, low back pain, joint injection, regenerative medicine and chronic pelvic pain. Dr. Scott completed internal medicine and PM&R residency at The Mount Sinai Hospital in New York, followed by fellowship training at Non-Surgical Orthopedics, Marietta, Georgia.
OrthoAtlanta Douglasville orthopedic surgeon, Matthew Jaffe, MD, provided opening comments to guests attending the event. As shared by Dr. Jaffe, "We are excited to welcome Dr. Burket and Dr. Scott to the OrthoAtlanta Douglasville practice." Dr. Jaffe also shared insights into the recent remodel of the Douglasville office. "Our newly remodeled OrthoAtlanta Douglasville office provides added patient convenience, comfort and access, and a single destination for patient orthopedic and sports medicine needs." Orthopedic services provided at the Douglasville office include on-site MRI and X-ray services, diagnosis, treatment and rehabilitation services with on-site Physical Therapy facilities.
OrthoAtlanta Douglasville serves new and existing patients with orthopedic and sports medicine needs ranging from sprains, strains and fractures, workers' compensation injuries, to the most complex total joint preservation, reconstruction or replacement and both non-surgical and surgical spine care needs.
The OrthoAtlanta Douglasville office is located at 6002 Professional Parkway, Suite 140, Douglasville, just off Hospital Drive next to WellStar Douglas Hospital. Office hours are 8:00 a.m. to 5:00 p.m. Monday through Friday. Appointments may be requested by calling 770-949-8558, or via the Patient Portal on the OrthoAtlanta web site. For more information, please visit orthoatlanta.com.
About OrthoAtlanta
OrthoAtlanta is one of the largest physician-owned orthopedic and sports medicine practices in the greater Atlanta, Georgia area providing an integrated approach to delivering musculoskeletal care. With 38 physicians serving in 14 offices, the practice provides the highest level of patient care for injury or deformity of muscles, joints, bones and spine. OrthoAtlanta offers convenient accessibility to a full range of musculoskeletal surgeons, specialists and patient services including on-site physical therapy, pain management care, seven MRI imaging centers and workers' compensation coordination. OrthoAtlanta Surgery Centers in Austell and Fayetteville provide cost-effective, same-day surgical procedures in an accredited outpatient center. Comprehensive operative and non-operative musculoskeletal care and expertise includes sports medicine, arthroscopic surgery, hip replacement, knee replacement, neck and spine surgery, hand, wrist, elbow and shoulder surgery, foot and ankle surgery, physical medicine and rehabilitation, arthritis treatment, general orthopedics, work related injuries and acute orthopaedic urgent care. Learn more at www.OrthoAtlanta.com.
For additional information, please contact Pat Prosser, Public Relations Manager, at OrthoAtlanta, 678-996-7254, or via email pprosser@OrthoAtlanta.com.
Source: OrthoAtlanta
Related Media
Tags
Additional Links