OrthoAtlanta an Official Partner of the 2018 Chick-fil-A Peach Bowl
OrthoAtlanta serves as the Official Sports Medicine Provider to the nationally-televised New Year's Six Bowl Game in Mercedes-Benz Stadium
Press Release
-
updated: Dec 18, 2018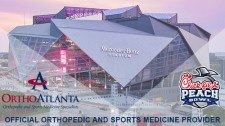 ATLANTA, December 18, 2018 (Newswire.com) - OrthoAtlanta is proud to serve as the official orthopedic and sports medicine provider to the 2018 Chick-fil-A Peach Bowl scheduled for Saturday, Dec. 29, at noon ET, in Mercedes-Benz Stadium and nationally televised by ESPN. The top-10 showdown between the No. 10 University of Florida Gators vs. the No. 7 University of Michigan Wolverines will be the Bowl's first Big Ten vs. SEC game in 28 years. Recognized as the ninth-oldest college bowl game, the Chick-fil-A Peach Bowl is one of the New Year's Six bowl games and will lead into the College Football Playoff Semifinals this year. Since its inaugural game in 1968, the Chick-fil-A Peach Bowl has attracted more than 2.95 million fans to Atlanta, with an average of 71,321 fans attending the game since 2000.
OrthoAtlanta provides on-site orthopedic medical services on game day and throughout Bowl Week to the players of both teams, their coaches, staff and officials. OrthoAtlanta has served as the official sports medicine provider to the Chick-fil-A Peach Bowl for more than 20 years, and is recognized by Peach Bowl, Inc., as its longest-running sponsor partner. OrthoAtlanta orthopedic surgeon, Todd A. Schmidt, MD, serves as medical director to this year's Chick-fil-A Peach Bowl, and OrthoAtlanta, Medical Director, Michael J. Behr, MD, serves as co-medical director. They are joined by additional OrthoAtlanta sports medicine physicians from multiple orthopedic specialties including Richard B. Johnston, MD, Donald E. Fowler, III, MD, and Jeffrey P. Smith, MD, plus athletic trainers and administrative staff dedicated to serving the game.
Dr. Todd Schmidt describes OrthoAtlanta's role, "As the official orthopedic and sports medicine provider to the 2018 Chick-fil-A Peach Bowl, OrthoAtlanta physicians serve as the key medical point of contact for the visiting teams while they are in town. We provide 24/7 availability from the time the teams arrive in Atlanta, staying with the teams, traveling to all practices, and working in the training rooms with the team medical staff."
In conjunction with the Chick-fil-A Peach Bowl, OrthoAtlanta also hosts a medical team dinner for both teams, allowing them to socialize in a casual setting, a service no other bowl game provides.
The OrthoAtlanta medical staff and management personnel work together with Peach Bowl, Inc., management to ensure the medical needs of the teams, coaches and staff are served. As shared by Gary Stokan, Peach Bowl, Inc. CEO and president, "OrthoAtlanta physicians and medical staff work together with the Peach Bowl, Inc., staff, the teams and officials, delivering top medical service to the Chick-fil-A Peach Bowl. It's a trusted partnership that extends throughout the year, including the many months of planning that lead up to the bowl game and throughout game day." 
OrthoAtlanta and college football are two proud Atlanta traditions. On game day, OrthoAtlanta employees will participate in the 2018 Chick-fil-A Peach Bowl Parade presented by the game founding partner, Lions Clubs International. Throughout December, Football Friday activities at OrthoAtlanta offices recognize the sponsorship and service to the 2018 Chick-fil-A Peach Bowl. Learn more at OrthoAtlanta.com and Facebook.com/OrthoAtlanta.
ABOUT ORTHOATLANTA
OrthoAtlanta is one of the largest physician-owned orthopedic and sports medicine practices in the greater Atlanta, Georgia area providing an integrated approach to delivering musculoskeletal care for the whole family. With 39 physicians serving in 14 offices, the practice provides the highest level of patient care for injury or deformity of muscles, joints, bones and spine. OrthoAtlanta offers convenient accessibility to a full range of musculoskeletal surgeons, specialists and patient services including on-site physical therapy, pain management care, seven MRI imaging centers and workers' compensation coordination. OrthoAtlanta Surgery Centers in Austell and Fayetteville provide cost-effective, same-day surgical procedures in an accredited outpatient center. Comprehensive operative and non-operative musculoskeletal care and expertise includes sports medicine, arthroscopic surgery, hip replacement, knee replacement, neck and spine surgery, elbow and shoulder surgery, hand and wrist surgery, foot and ankle surgery, physical medicine and rehabilitation, arthritis treatment, general orthopedics, work-related injuries and acute orthopaedic urgent care. Learn more at www.OrthoAtlanta.com.
Media Contact: Pat Prosser, Public Relations Manager, OrthoAtlanta, 678-996-7254, pprosser@OrthoAtlanta.com
ABOUT PEACH BOWL, INC.
Peach Bowl, Inc. operates the Chick-fil-A Peach Bowl, one of the New Year's Six Bowls selected to host the College Football Playoff. Last year, the Peach Bowl celebrated its Golden Season, including its 50-year history of traditions and successes as the nation's ninth-oldest bowl organization. The Bowl has earned a reputation as one of the most competitive bowls in the country, with 54 percent of its games being decided by a touchdown or less. Peach Bowl, Inc. has disbursed $240.5 million in team payouts over its 51-year history. Peach Bowl, Inc. also leads all other bowl game organizations in charitable and scholarship contributions, giving more than $31.8 million to organizations in need since 2002. Peach Bowl, Inc. also runs the Chick-fil-A Kickoff Game, the Chick-fil-A Peach Bowl Challenge charity golf tournament, manages The Dodd Trophy national coach of the year award and led the relocation and financial foundation of the College Football Hall of Fame to Atlanta. For more information, visit Chick-fil-APeachBowl.com or follow us on Twitter at @CFAPeachBowl and find us on Facebook at Facebook.com/CFAPeachBowl.
Media Contacts:
Matt Garvey, Vice President, 404-586-8496, mgarvey@cfabowl.com
Dillon Faulkner, Manager, 404-586-8453, dfaulkner@cfabowl.com
Veronica Smith, Assistant, 404-586-1932, vsmith@cfabowl.com
Source: OrthoAtlanta
Share:
---
Categories: Orthopedics, Sports
Tags: acute orthopedic care, arthroscopic surgery, Chick-fil-A Peach Bowl, college football, Florida Gators, Michigan Wolverines, New Year's Six Bowl Game, OrthoAtlanta, orthopedics, Peach Bowl, sports medicine
---