Orlando Tech Startup TrustSpot Emerges From Stealth Mode With a Next Generation Reputation Management Platform for SMBs That Proves Measurable ROI for Customers
TrustSpot, a next generation reputation management platform for online businesses, has emerged from stealth mode and revealed client case study numbers that prove a direct increase in conversion rate & ROI. By utilizing actionable customer intelligence, TrustSpot increased a single client's revenue by 10% within their first 60 days of use.
Press Release
-
Mar 21, 2016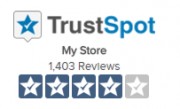 Orlando, FL, March 21, 2016 (Newswire.com) - TrustSpot, a tech-startup based out of Orlando, FL is a next generation reputation management platform that allows businesses to easily and automatically collect and share 100% verified buyer reviews for their business.
"The power of genuine customer feedback is undeniable. When visitors come to your store and see your reviews this increases their confidence level and reassures them that you are a trustworthy place to shop. This will lead to increased sales, increased cart amounts and of course increased ROI." describes Ryan Haidinger, Co-Founder & CEO of TrustSpot. "88% of shoppers trust online reviews as much as personal recommendations; TrustSpot leverages this fact to provide quality reputation and review management to drive positive buzz and virality."
Merchants use TrustSpot to capture customer feedback about their purchase after a sale has been completed. Customers will receive an email asking them to tell TrustSpot about their shopping experience including if they recommend the merchant to their friends and family. This information provides businesses with actionable intelligence upon which they can create targeted marketing campaigns to capitalize on loyal customers.
"By providing merchants all of this great data, they can instantly see who their best customers are – which goes a long way into building successful marketing campaigns for their business." Says Ryan. "We wanted to build TrustSpot as something that was incredibly easy to use but also incredibly powerful under the hood so businesses can unlock their true potential."
TrustSpot released a 2-month long case study with an online merchant called DigitalGameSales to showcase their unbelievable results. In the case study, TrustSpot proves a measurable 10% revenue increase for their client. Not only is the number impressive, but it also goes to show how powerful genuine reviews can help to boost a merchant's conversion rate and sales.
"It makes perfect sense really. When potential customers first visit a merchant they always ask the question – can I trust this merchant to provide my goods without issue. Customers are constantly concerned about security, and want to make sure that they are buying from a reputable business. Since customers can easily read all the great reviews the merchant has via their TrustSpot page & widgets, it increases their confidence and thus completes their purchase with the business." Says Ryan.
The key difference and the competitive advantage that TrustSpot has is their ability to measure and prove ROI, in addition to their affordable pricing options for all businesses.
"When we started building TrustSpot, we knew from Day 1 we wanted to be affordable to the masses. This means no long term contracts, no setup fees, no crazy pricing like everybody else in the industry. We wanted something that even the smallest business such as a 1 person startup could easily start using without breaking the bank. Unlike our competitors in the industry who charge ridiculous fees, we took a step in a different direction and even created a 100% free account option for tiny businesses – to ensure everybody can start collecting customer reviews and grow their business" concludes Ryan.
TrustSpot plans to cater to small e-commerce businesses in an a space dominated by enterprise solutions for larger companies. The incredible growth of small e-commerce shops around the world has left a void in the reputation management market, and TrustSpot plans to fill it.
For more information about TrustSpot, reach out to Ryan directly at Ryan(at)TrustSpot(dot).io
Share:
---
Categories: e-Commerce, Marketing, Computer Software, Saas (Software as Service)
Tags: business ratings, business reviews, business trust, conversion rate, ecommerce, ecommerce conversion, online reputation, Online Trust, Ratings, reputation management, Reviews, reviews marketing
---
Related Files
Additional Links