Orlando Credit Union's New Drive-Thru Hours Drive Access to Banking
Press Release
•
Sep 27, 2023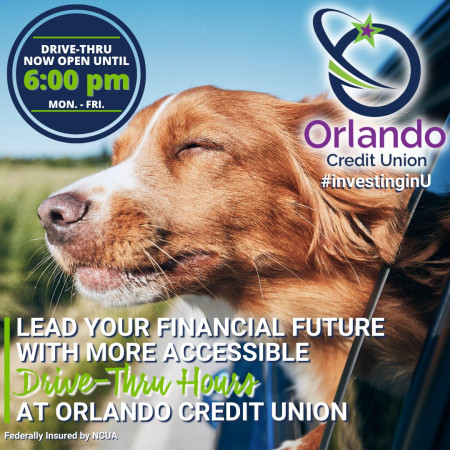 ORLANDO, Fla., September 27, 2023 (Newswire.com) - Have you ever needed to make a checking deposit or speak with a banking professional at 5:45 p.m. on a Tuesday? Maybe you've had the experience of getting to the bank right as the door is being locked with a person explaining through a door: we're closed. Come back tomorrow?
At Orlando Credit Union those experiences are a thing of the past. Beginning October 2nd, each of Orlando Credit Union's branch drive-thru locations will offer extended hours of operation until 6:00 p.m., Monday-Friday. "For us, it's about being open for members when they need us. Our members are seeking service after leaving work, picking up the kids from practice after school, or when out running errands, and we're here to help," stated David Duncan, Head of Marketing, Communications and Public Relations for the organization. "Our focus is listening to our members and understanding their service requests and product needs. Here we focus on delivering member-designed bank offerings when they're needed," added Duncan.
"At Orlando Credit Union, whether you're banking for your family, your small business, or your commercial operation, we're here to service your needs. To all reading here we say, come join us! We have a lot to offer," stated David. "Here we invest in people, access to service, and this place we call home. At Orlando Credit Union, we invest in YOU," noted Duncan.
Orlando Credit Union is here to help you utilize better banking solutions to be the leader of your financial future. Our service and product offerings are member-designed, enabling ease of banking and building wealth. Here we are #investinginU.
Source: Orlando Credit Union
Tags