Organization Expert Lorie Marrero Provides Tips for Getting Organized on TipsOnTV
Press Release
•
Jan 19, 2022
Bestselling author of "The Clutter Diet: The Skinny on Organizing Your Home and Taking Control of your Life" shares ways to save time and be more productive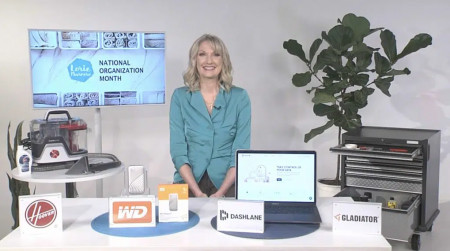 ATLANTA, January 19, 2022 (Newswire.com) - Each January is recognized as National Organization Month by professional organizers who know the impact being organized can have on life. Certified Professional Organizer Lorie Marrerro shares timely tips for getting organized. This bestselling author's ideas show how getting organized effectively is not as much about creating a system but much more about adhering to that particular system.
TOOLS TO HELP GET ORGANIZED
Start by utilizing some great tools to organize computer and digital resources. Save, access, and help protect the content that matters most with the My Passport SSD from WD. Keep the productivity flowing with password-enabled hardware encryption in a sleek, durable metal design that is easy to use and blazing fast. This portable drive comes in various sizes from 500 Giga-bytes to 4 tera-bytes. Wherever, WD helps every step of the way. For more information, visit www.westerndigital.com.
COMMON CHALLENGE FOR ORGANIZING A HOME
A common challenge is the garage, and Gladiator can help. For the perfect way to get the clutter in a garage organized this new year, Gladiator has a variety of high-quality, stylish and durable options. Gladiator offers an array of products to store sporting gear, gardening supplies, storage bins of holiday décor and even tools. The brand new 7-Drawer Storage Cabinet is perfect for organizing tools in a variety of sizes in one easy location. The garage is evolving into a very versatile space within our homes, and it is important to get the solutions to fit any lifestyle. For more information, visit www.gladiatorgarageworks.com.
SUGGESTIONS FOR ORGANIZING ONLINE LIFE
When it comes to online life, there are so many passwords to manage. Thanks to Dashlane, it is easy to stay safe, secure, and organized with passwords across any device. Dashlane fills in all passwords, payments, and personal details wherever needed, so keep going with what is needed. No more writing passwords down in the Notes app or on sticky notes. Dashlane keeps any info private and secure, at all times, so it simplifies digital life both at home and at work. For more information, visit www.dashlane.com
OTHER SUGGESTIONS FOR BEING BETTER ORGANIZED
Staying organized often has a lot to do with cleaning too. One recommendation is the NEW HOOVER CleanSlate Spot cleaner. It not only cleans old stains like mud, coffee and pet messes but provides the confidence to tackle any cleaning challenge. The variety of attachments clean both smaller and larger spaces like carpet corners, stairs, and EVEN fabric car seats. It is available at Hoover.com for under $100 dollars.
Contact: tipsontv@gmail.com
Source: TipsOnTV