Organic Soup Kitchen Launches Cancer Recovery Hub
After 10 years of service in Santa Barbara County, Organic Soup Kitchen launches new venture for cancer recovery hub.
Press Release
-
updated: Jun 5, 2018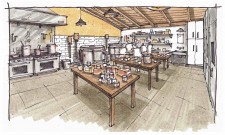 SANTA BARBARA, Calif., June 5, 2018 (Newswire.com) - Organic Soup Kitchen, a 501(c)3 located in Santa Barbara, California, is announcing a one-year capital campaign that will seek to raise $1.5 million. The proceeds will fund a 3,000-square-foot nutrient therapy for cancer patients headquarters, an endowment and sustain five years of operations.
The campaign commemorates 10 years of service on the Central Coast. In the process of serving hundreds of thousands of meals, Organic Soup Kitchen believes that it has honed the perfect cancer-fighting meal.
Organic Soup Kitchen is at the forefront of food reform and community health solutions. The organization is the No. 1 local trusted source for cancer patients who seek foods for optimal nutrition. Nutrient therapy is provided to cancer patients, using organic, non-GMO, gluten-free products and certified non-irradiated herbs. Their soups are high in antioxidants with a coconut milk base and packed with anti-inflammatory ingredients. Soups are pureed for ease of digestion and higher nutrient exposure and metabolism, as 35 percent of their patients experience dysphagia, or difficulty swallowing. Cancer patients undergoing treatments at Cottage Hospital and Ridley-Tree Cancer Center are hand-delivered nutrient-dense soups weekly.
"As a recognized and respected authority in our community as the first food-for-medicine organization on the Central Coast, we are taking our services and our products to the next level. We are expanding meal production and services with a headquarters campaign," states Executive Director Anthony Carroccio. Determined to track and refine the connection between food and health, he founded Organic Soup Kitchen in 2009.
The headquarters will be equipped with commercial-grade equipment and disaster relief functionality. It will also feature a multi-purpose conference room that will be used for operations, meetings and food and nutrition education programs held in collaboration with local schools. In light of recent natural disasters in Santa Barbara County, the concept of a disaster relief kitchen is one of the most anticipated features. With green LEED certification and an operating structure to reduce carbon footprint, the headquarters will serve as a sustainable, yet high-production headquarters with the highest standards for environmental and community health.
The headquarters, endowment and long-term operating fund will ensure a highly successful, scalable model backed by patient feedback and outcomes data that can be replicable to organizations with similar initiatives.
The campaign was kicked off in late May with real estate mogul and heir of Firestone Tire, Andrew Firestone. This private event was held at SYNERGY Business and Technology Center in Santa Barbara, generating $100,000 towards the $1.5 million campaign budget goal.
The design concept was unveiled by principal architect Michael Holliday, FAIA, LEED AP, of DMHA Architecture firm. The unveiling featured the architectural design renderings and the floor plans, directed by John Eisenbeisz, AIA, senior project architect.
The national campaign for the first nutrient therapy headquarters on the Central Coast is now live. The grand opening is slated for mid-2019. To get involved, please visit www.organicsoupkitchen.org.
Contact:
Andrea Slaby, Chief Operations Officer
Email: headquarters@organicsoupkitchen.org
Source: Organic Soup Kitchen
Share:
---
Categories: Cancer/Oncology
Tags: cancer, cure, food, health, healthcare, hospital, medicine, nutrition, plantbased, treatment, vegan, vegetarian
---