Oregon's Siskiyou Sungrown CBD Products Now Available on GNC
Press Release
•
updated: Mar 27, 2020
With Decades of Experience Cultivating Cannabis, Family-Owned Siskiyou Sungrown has Earned a Reputation as One of Oregon's Most Respected Producers of CBD Wellness Products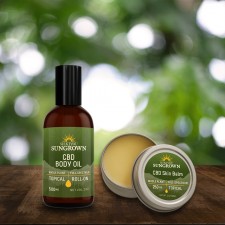 GRANTS PASS, Ore., March 27, 2020 (Newswire.com) - ​What California is to wine, Oregon is to cannabis – their respective agricultural products are known as some of the finest anywhere in the country. One of the most longtime and respected cannabis growers in the state, Siskiyou Sungrown – located in the foothills of the Siskiyou Mountains near Grants Pass, Oregon – has for years operated a business selling their CBD wellness products. Currently offered in 18 states across the United States, Siskiyou Sungrown is emerging as a leader in the craft CBD market.
Their skin balm and body oil, crafted by a master herbalist, have developed a glowing reputation locally and nationwide. Now for the first time, Siskiyou Sungrown's CBD products are available from GNC online (subject to individual state restrictions).
Siskiyou Sungrown CBD Body Oil: Roll-On ($30 - 500mg / 2 oz.)
An infusion of their classic full spectrum CBD concentrate into a soothing body oil that moisturizes, relaxes, and soothes. Apply to skin daily or as needed anytime. Great for massage or after a bath or shower to calm and balance body and mind. Handmade in the USA, cruelty-free and vegan.
Siskiyou Sungrown CBD Skin Balm ($25 - 250mg / 1oz.)
Siskiyou Sungrown CBD Skin Balm is a full-spectrum topical balm containing a blend of botanicals to bring relief and promote healing. Handmade in the USA, cruelty-free and vegan.
Company Description: While Siskiyou Sungrown was officially established in 2014, operating under the Oregon medical cannabis program, husband and wife team Cedar and Madrone Grey had been cultivating cannabis and producing concentrates for decades before that. What began as a long-standing appreciation for the therapeutic power of cannabis became a personal quest to help family members with critical health issues. When Oregon legalized recreational marijuana in 2016, the family business quickly entered that market. Today they farm, process, and distribute cannabis products to over 300 Oregon dispensaries, and distribute hemp CBD products nationwide. Their expertise is so widely recognized that Cedar is a Governor-appointed Oregon Cannabis Commissioner, assisting state agencies on medical cannabis policy.
All of Siskiyou Sungrown's hemp products include the full spectrum of beneficial plant constituents. They extract the resinous oil from their Oregon-grown hemp using certified organic cane alcohol, a process that delivers the greatest therapeutic benefit for consumers. The company farms exclusively in native soil, using organic and regenerative farming practices which improve the health of the soil and the surrounding ecosystem. Water conservation, cover crop rotation, integrated pest management, companion plantings and strictly organic inputs are some of the methods used to support biodiversity and ecological health. With these foundational practices, and decades of experience, Siskiyou Sungrown produces the most pure and effective CBD wellness products available.
For more information visit www.GNC.com or http://siskiyousungrowncbd.com.
Source: Siskiyou Sungrown