Orange Riders Offers a New Opportunity for All Moto Enthusiasts Through the Rent a Motorbike Program
Orange Riders created a new category for their motorcycle touring and rental website based only on a 'rent a motorbike' program. This category of motorcycle rental is different from the basic Romanian and European motorcycle tours because it brings forward a simpler type of renting, with unique pricing and special liberties.
Press Release
-
Jan 18, 2016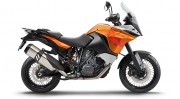 Romania, January 18, 2016 (Newswire.com) - Orange Riders, a company specialized in guided motorcycle tours and motorbike rental, announces that every motorcycle enthusiast may now rent one of the company's two-wheeled vehicles for personal trips, tours or simple cruises. Even though the European motorcycle tours are enjoyable and professionally executed with the help of an experimented guide, some moto enthusiasts might feel the need of riding alone, on a self-discovery trip, without many people to join them or ride alongside them.
This is what Orange Riders offers through its special 'rent a motorbike' program, designed to fulfill the needs of this company's customers who are not interested in participating in any of the European motorcycle tours, nor the Romanian ones. As the website specifically shows, there are special fees for this motorcycle renting program, for any period of rental time or additional kilometers that might be needed to reach a destination. There are also certain fees for other accessories, like top case, side case or GPS, which are commissioned by rental-day.
Orangeriders.com is renowned for its European motorcycle tours, promised to be a potential adventure for all the riders who share a passion for motorbikes. The company's website has in store for every customer four different types of tracks:
·         A Transylvanian tour in Romania, which covers many picturesque cities like Brasov, Sighisoara, and Sibiu
·         A Carpathian tour in Romania, in the Southern and Western Romanian Carpathians, including the famous Romanian track, Trans-Fagarasan, which was greatly appreciated even by the Top Gear's hosts
·         An Austrian tour, which includes a trip through the Austrian territory, but also a track through Germany, Switzerland, Liechtenstein and Italy
·         A tour in the Alps, the famous European mountain chain, starting from the Austrian mountains, through the Switzerland chain, reaching the French Mont-Blanc and finishing with the Italian Alps
Orange Riders' newest offer is not related with the above-mentioned tours, because it comprises only individual offers for motorcycle renting, ideally for one day, or even a week's trip, all the possible offers for choosing to be structured in a fee table. Besides the fees and distance lengths, there are also the types of motorcycles for rent to be considered. Orange Riders has in stock the newest types of KTMs, like the following models:
·         KTM 1290 Super Adventure 2015, with a 2-cylinder, 4-stroke, V 75° design, 6-speed transmission, 1301 cm3 displacement, 118 kW power, an electric starter and a 30 l tank capacity
·         KTM 1190 Adventure 2015,  with a 2-cylinder, 4-stroke, V 75° design, 6-speed transmission, 1195 cm3 displacement, 110 kW power, an electric starter and a 23 l tank capacity
·         KTM 1190 Adventure R 2015, with almost the same characteristics as the above-mentioned model, but with chassis differences, like ground clearance, front suspension, rear suspension, suspension travel and wheelbase
·         KTM 1050 Adventure 2015, with a 2-cylinder, 4-stroke, V 75° design, 6-speed transmission, 1050 cm3 displacement, 70 kW power, an electric starter and a 23 l tank capacity
About Orange Riders
Orange Riders offers all its facilities for the customers in need of a good motorcycle for rent and tries to give them a variety of choosing, for some being the Romanian and European motorcycle tours, and for others the special 'rent a motorbike' program. For the Orange Riders company, every motorcycle rental is a step toward believing and fulfilling a dream for the many moto enthusiasts that prefer a two-wheeled experience. 
Share:
---
Categories: Motorcycle Racing
Tags: europe motorcycle tours, guided motorcycle tours, motorcycle renting, motorcycle tours, rent a motorbike
---