Orange Closes Pre-Seed Round to Bring Affordable EV Charging to Apartments
Press Release
•
Jan 25, 2023
Orange is signaling its intent to drive EV adoption by bringing reliable, affordable EV charging to apartments and disadvantaged communities.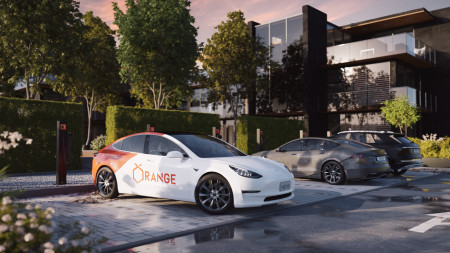 SAN FRANCISCO, January 25, 2023 (Newswire.com) - Today, Orange announced the close of its $2.5MM pre-seed round to scale affordable electric vehicle charging for apartment communities by leveraging lower-powered charging solutions.
Founded by former Tesla engineers and backed by prominent EV investors, Orange is creating an affordable charging platform that provides site owners with a compelling return on investment while maintaining equitable costs, bringing EV charging to more disadvantaged communities.
Orange installs EV chargers for the lowest possible cost while providing enough energy to satisfy daily driving needs using lower-powered 120-volt and 240-volt solutions. More stations are installed on the same circuit, making EV charging possible for the maximum number of residents at any property.
The Orange Outlet lowers the costs of charging for 39 million Americans living in apartment communities by ~70% over traditional charging solutions and carries little to no maintenance cost due to its simplified design. Additionally, Orange leverages the proprietary software, OrangeNet, which allows property owners to manage outlets across multiple sites and brings an average return on investment of 150%.
"Orange has achieved equitable access to electricity by re-thinking the entire process of vehicle charging by creating a system specifically for apartment communities, rather than pushing a public charging model that doesn't fit onto them," Nicholas Johnson, Orange CEO, said.
Baukunst, a leading pre-seed firm investing at the frontiers of technology and design, led the round. They are joined by notable angel investors in the EV space, including Tesla co-founders Marc Tarpenning and Martin Eberhard, Johnathan Crowder, founder of the energy-focused firm Intellus Capital, and Sven Thesan, a Nobel-winning chemist.
About Orange
Redwood City, CA-based Orange is an electric vehicle charging solutions provider at multi-unit properties led by technology entrepreneurs and electrical experts. Founded in 2020, Orange offers customers an affordable and scalable way to bring EV charging capabilities to their residents by leveraging lower-powered charging outlets that reduce total costs by upwards of 70% compared to traditional charging solutions. The company's innovative approach allows the millions of Americans living in multi-family housing access to affordable charging. For more information, please visit orangecharger.com.
INVESTOR QUOTES
Matt Thoms, General Partner at Baukunst:
"We're thrilled to lead the pre-seed round for Nicholas and the team at Orange. At Baukunst, we believe a charging solution designed specifically for affordability and rapid adoption in apartment communities will catalyze the equitable EV movement."
Marc Tarpenning, Co-founder of Tesla Motors and Venture Partner at Spero Venture:
"Orange's low-cost EV charging solution for apartment communities solves a major problem for widespread and equitable EV adoption. We are excited to be part of Orange's journey."
Jonathan Crowder, Partner at Intelis Capital:
"We're excited to partner with the Orange Charger team on their mission to solve the challenge of delivering affordable and convenient EV charging solutions for multi-family property residents and building owners."
Source: Orange