Optimis Signs Up for FinMason Analytics Through FinTech Sandbox
Optimus will receive free access to FinRiver™, a suite of lightning-fast investment analytics APIs
Press Release
-
updated: Sep 27, 2018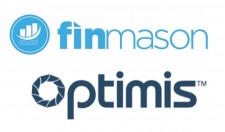 BOSTON, September 27, 2018 (Newswire.com) - FinMason, a rapidly growing fintech firm operating one of the largest investment analytics platforms in the world, today announced that Optimis will be using FinRiver™ – a suite of lightning-fast investment analytics APIs – to power their offering. Optimis, a current participant in FinTech Sandbox's startup program, is an alternative risk management platform that delivers alternative interest rate products and analytics to financial institutions and Fortune 1000 companies. With FinRiver™, Optimis will be able to accelerate the development of their platform and further their vision of creating a simple, cost-effective, customizable solution for managing interest-rate risk.
"As part of Optimis' mission to reshape the future of capital markets, we're pleased to partner with FinMason in delivering unparalleled risk management and unrivaled intelligence to market participants," said Christopher Rivers, CEO of Optimis. "FinMason's APIs allow us to get to market faster with a more user-friendly product, all while providing our clients with a broad range of institutional-grade analytics."
As a Fintech Sandbox data partner, FinMason offers startup participants free access to their investment analytics API for a six-month period, with the potential to extend for an additional six months. FinMason requires interested FinTech Sandbox participants to meet the following criteria in order to qualify for this offering:
1.      Share a mission of educating investors or advisors to make more informed investment and retirement planning decisions
2.      Operational less than two years
3.      Under $500,000 in revenue
4.      Have raised no more than $1 million in funding
Qualifying firms will have access to more than 700 analytics, including risk and performance metrics, aggregate factor exposures, scenario analyses and stress testing.
"We are delighted to support Optimis in their mission to help capital market investors manage their risk and optimize their performance," said Kendrick Wakeman, founder and CEO of FinMason. "I'm looking forward to seeing what new functionality they can develop with the help of our analytics."
An Investment Analytics as a Service platform, FinMason enables firms to accelerate their times to market through rapid prototyping and development, A/B testing and functional iterations. Their FinRiver API easily and flexibly delivers robust analytics to WealthTech firms interested in building or enhancing offerings.
On Sept. 25, 2018, FinMason announced that Totum Risk had selected them to expand their analytics suite on their leading risk tolerance assessment platform.
ABOUT FINMASON
FinMason is one of the world's largest investment analytics engines for financial services platforms. The Boston-based financial technology firm provides access to more than 700 calculations on every publicly traded asset in the world delivered through one simple API. Developed by FinMason's team of seasoned data practitioners and nine Ph.D.s, the cutting-edge platform delivers institutional-grade analytics in milliseconds via two core products: FinRiver™ – a lightning-fast API that delivers any analytics anywhere in a financial services firm's platform with just a few keystrokes; and, FinScope™ – a bulk processing platform that can analyze millions of portfolios every night for compliance screening and performance attribution. For more information, visit https://FinMason.com/ and follow FinMason on Twitter, LinkedIn and Facebook.
ABOUT OPTIMIS
Optimis is a leading innovator and developer of electronic marketplaces and analytics for capital markets. Based in Charlotte, Optimis' risk management platform delivers the newest alternative for managing interest-rate risk with alternative interest rate products and analytical solutions that eliminate cost and risk of derivatives while managing risk exposures on corporate debt and fixed income. For more information, visit www.OptimisInc.co and follow Optimis Inc. on LinkedIn and Twitter.
FINTECH SANDBOX
FinTech Sandbox is a Boston-based nonprofit that promotes financial technology innovation globally by providing free access to critical data and resources to FinTech entrepreneurs and startups. Sponsors include Amazon Web Services, Fidelity Investments, F-Prime Capital, Franklin Templeton, Intel, State Street, Thomson Reuters and Goodwin Procter. For more information, visit www.FinTechSandbox.org and twitter.com/FinTechSandbox.
MEDIA CONTACT:
Jessica Taylor Shores
Impact Communications Inc.
913-649-5009
JessicaShores@ImpactCommunications.org
 
Source: FinMason
Share:
---
Categories: Business Technology, Investments
Tags: Boston, Christopher Rivers, FinMason, FinRiver, FinTech Sandbox, Investment Analytics, Kendrick Wakeman, Optimis
---