Optima Juris, the International Deposition Agency, is Counting Down the Days Until Its 18th Birthday
The big event will happen on Sept. 28, 2018 - 18 days from now. Daily fun, like giveaways, videos, trivia and more, can be found on Optima Juris' social media channels as they count down the days. An exciting surprise will be revealed on its 18th birthday via Facebook Live.
Press Release
-
updated: Sep 7, 2018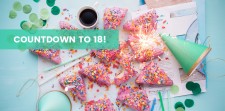 IRVINE, Calif., September 7, 2018 (Newswire.com) - Optima Juris, the first and only U.S. firm exclusively dedicated to setting up international depositions, is getting ready to celebrate 18 years as a legal industry innovator. To commemorate this special occasion, a "countdown to 18" clock has been triggered on Optima Juris' social media channels. Visitors can expect daily videos, trivia, entertaining facts and awesome, free giveaways -- all themed to the number of days remaining until the big day. This will lead up to a very special surprise to be revealed via Facebook Live on their birthday: Friday, Sept. 28, 2018. 
"Here at Optima Juris, we have enjoyed 18 years of providing industry-leading expertise to law firms and court reporting agencies across the nation," said Ian Hardy, the firm's founder and president. "We have organized depositions in nearly every country on the planet, making a real impact on the world and helping our clients achieve incredible success. As we approach our 18th birthday, the future for Optima Juris has never looked brighter." 
Many consider Optima Juris to have been a disruptive and innovative force in the deposition services industry since its founding in the year 2000. The company's vision was simple: create the first U.S. court reporting firm exclusively dedicated to arranging depositions outside of the United States, serving every country in the world. Today, Optima Juris has become much more than just a court reporting agency. Its constant striving for perfection has led to new and exciting ways to better serve the legal industry, often by providing free consulting and advice on international depositions. Looking back on the last 18 years, the team at Optima Juris is proud of what they have built and they look forward to many more decades of innovation and excellence. 
To participate in the Optima Juris birthday countdown celebration, simply follow Optima Juris on social media and bookmark the Optima Juris birthday page: http://www.optimajuris.com/birthday/.  
Facebook: https://www.facebook.com/optimajuris 
Twitter: https://twitter.com/optimajuris 
Google+: https://google.com/+Optimajuris 
LinkedIn: https://www.linkedin.com/company/optima-juris 
Countdown to 18 Giveaway 
Here is Optima Juris' first giveaway with 18 days to go until their birthday: Enter here to win a set of four 18 oz. Moscow Mule copper mugs 
All entries must be received by Sept. 11 at 11:59 p.m. PDT. 

Winners will be announced on Sept. 12 and notified via email. 

Official Rules can be found here. 
Good luck and remember to check back daily at http://www.optimajuris.com/birthday/. 
About Optima Juris 
Optima Juris is the only U.S. agency exclusively dedicated to international depositions. We have been helping law offices across the globe find the highest-quality certified court reporters, legal videographers and interpreters for 18 years. For any questions about international depositions, please do not hesitate to contact us or fill out a free quote to see how we can make any international deposition a complete success. 
Source: Optima Juris
Share:
---
Categories: Legal Services
Tags: birthday, celebration, countdown, depos abroad, giveaways, international depos
---