Opportunities for More Vegetable Meal Occasions
Study by Horizon Consumer Science Reveals Best Methods to Boost Veggie Use
Press Release
-
updated: Jan 15, 2019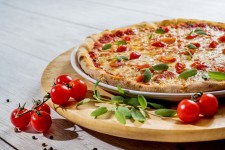 LOS ANGELES, January 15, 2019 (Newswire.com) - It is a problem for parents the world over – how to get their kids to eat more vegetables. There is plenty of expert advice on how to get them to eat more, but still they don't, and part of the reason for it is that many parents are not good role models when it comes to preparing and eating veggies, according to market research company Horizon Consumer Science.
Now a new study by Horizon Consumer Science has come up with some answers, and they are not necessarily what one would expect. Consumers have plenty of information available to them about what to do with vegetables. They have the Internet at their fingertips via their smartphones and they have apps and TV channels devoted to the topic of cooking. As a result, they certainly should know what to do with vegetables. But, still they don't.
What consumers lack is relevant information at critical times – when they are shopping or when they are thinking about what to prepare, says Horizon. They also lack personal experience, which affects their perception of the time it takes and the relative difficulty and also their confidence in trying new things.
Even though shoppers can find all the information they need when shopping almost instantaneously via their smartphone, the study shows that most shoppers prefer a recipe card with each item of produce explaining how to cook them.
The old-fashioned take-away recipe – attached to vegetable and changed weekly – was preferred to cooking apps or social media recipes.
Asked if the cards would increase vegetable usage, 77 percent of those asked said it would. That compares to 45 percent who said they would eat more vegetables if they could download an app to their smartphone suggesting ways of using them in a meal.
Having relevant information at critical times can also be achieved via simple mnemonic devices that are easy to embed in memory and can be drawn on when buying or preparing – for example cook all the vegetable at once and then use the leftovers for other recipes; transform precooked vegetables into salads and soups or stuff vegetables with appetizing fillings.
Overcoming a lack of experience and boosting confidence can be achieved by linking the unknown with the familiar, the Horizon study suggests. If you can BBQ, you can BBQ vegetables. If you can make an omelette, just add some vegetables to it. If you are used to baking, why not make a carrot cake or zucchini loaf?  If you can make pasta, do it with vegetables. Making hamburgers? Put some grated carrot in the mix.
The study, by market research company Horizon Consumer Science, which has offices in the UK as well as North America, Australia and Asia, showed that the implementation of these ideas would result in increases in vegetable consumption by more than half of Australian consumers.
Sweet corn, leeks and cabbage have the strongest potential for increasing consumption using these ideas. Eggplant, green beans and broccoli were less popular, but still with plenty of potential, according to the study.
Media Contact: 
David Gardner, DG Media 
Phone: +1 310 433 2392 
Email: david@davidgardnermedia.com
Source: Horizon Consumer Science
Share:
---
Categories: Nutrition, Active and Healthy Living
Tags: cooking, healthy, Horizon Consumer Science, obesity, shopping, study, survey, vegetables, veggies
---