Opioid Crisis: Congress and Attorney Generals Need to Take Action, Says the Coalition for 21st Century Controlled Substances Act
Members of Congress and the Attorney Generals need to focus on their own responsibilities to protect public health.
Press Release
-
updated: Jun 23, 2017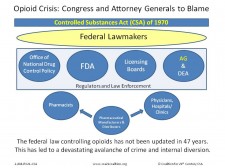 Naples, FL, June 23, 2017 (Newswire.com) - ​The nation's opioid crisis is being fueled by crime. Richard Nixon was the last U.S. President to sign any legislation on prescription drug security. In 1970, he signed the Controlled Substances Act (CSA) and in 1973 formed the Drug Enforcement Agency (DEA). No federal updates to the security provisions of controlled prescription drugs have been made in over 47 years.
Today, the opioid epidemic has ravaged communities, causes tens of thousands of deaths and costs hundreds of billions of dollars a year. Across the political aisle politicians and regulators offer solutions. The debate swings from patient access of needed pain medications to monitoring, treatment and how to reduce addiction. No one is addressing how to reduce crime.
The Centers for Disease Control (CDC) estimates opioid deaths have more than quadrupled since 1999 and 91 people die every day from an opioid overdose. The DEA reports double digit growth in pharmaceutical crimes since 2010 and over $72.5 billion a year of internal diversion loss.
Organized crime, drug cartels and gangs have capitalized on the nonexistent security controls for prescription drugs. The current federal law legally allows a practitioner to inter-disperse their controlled prescription drugs among their existing inventory and the consequences are deadly.
Scripps Safe, Inc. President, Jacqueline von Zwehl says, "The inter-dispersion of controlled prescription drugs is the nation's most serious public health threat in the fight against opioid abuse. Over 75% of pharmacists inter-disperse, become victimized by crime and that puts drugs in the hands of victims. There are 30 - 40 pharmacy robberies and burglaries every single day."
Congress has failed to update the federal law in 47 years and the Attorney Generals are too busy filing lawsuits targeting the deepest pockets. Ohio AG Mike DeWine filed a lawsuit against Purdue Pharma, Endo Health Solutions, Janssen Pharmaceuticals, Cephalon and Allergan. Missouri AG Josh Hawley filed a suit against three of the same manufacturers, accusing them of consumer protection violations. Similar suits have been filed by Ohio counties, Mississippi, City of Chicago and growing. The fact is all controlled prescription drugs go through rigorous FDA approval and carry very strict FDA-mandated warnings. While the Attorney Generals target approved FDA marketing, the criminals are stealing these drugs right off the shelves. Ohio, Missouri and Illinois all experienced double digit rise in pharmacy crime last year.
Members of Congress and the Attorney Generals need to look in the mirror at their own responsibilities to protect public health before pointing the finger of blame. The public does not need any more members of Congress who fail to act or Attorney Generals distracted by a trend of merit-less lawsuits. They need Congress to update a 47 year old federal law and the Attorney Generals to enforce it.
About the Coalition for 21st Century Controlled Substances Act
We are a group of Legislators, Law Enforcement, Licensing Boards, Practitioners, Pharmaceutical Distributors, Vendors and other key stake holders committed to updating the security provisions of the Controlled Substances Act to reduce pharmaceutical crime and save lives.
Media Contact
Company Name: Coalition for 21st Century Controlled Substances Act
Contact Person: Jacqueline Anz
Email: janz@scripps-safe.com
Phone: 1-888-792-1272
City: Naples
State: FL
Country: United States
Website: https://www.csa21coalition.org/
Source: Coalition for 21st Century Controlled Substances Act
---
Categories: Pharmaceuticals and Biotech, Legislative Branch/Congress, Drug Trafficking
Tags: Allergan, Cephalon, Controlled Substance Abuse, Drug Diversion, Endo Health Solutions, Jansen Pharmaceuticals, Opioid Abuse, Opioid Crisis, Opioid Lawsuit, Purdue Pharma
---