Governor Brown's Veterans Day Proclamation Presented on "Veterans Day " on the Historical Queen Mary, Nov.11th
"Support our veterans" has become a mantra in American Society. It's on the lips of politicians, community leaders and people on the street, but unfortunately when it comes to "disabled" veterans many are homeless, overlooked and forgotten.
Press Release
-
updated: Nov 7, 2016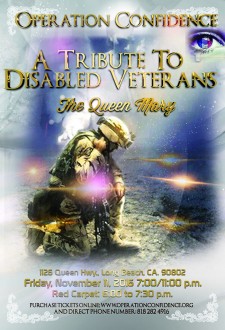 Long Beach, CA , October 26, 2016 (Newswire.com) - On Veterans Day, Friday, November 11, 2016, Operation Confidence will host a Tribute To Our Disabled Veterans, aboard the historical Queen Mary, in Long Beach, Ca. from 7:00 to 11 P.M. Red Carpet 6:00-7:00 P.M.
Special Guest Ricardo Reyes, Deputy Secretary, Minority Veterans Affairs is attending to present Governor Brown's Veteran's Day Proclamation at the event.
The event will honor disabled veterans of: World War ll, Korean War, Vietnam, Gulf, Iraq and the Afghanistan era and create social awareness about homelessness among "disabled veterans" in Los Angeles, the urgent need to provide transitional accessible housing and Operation Confidence relentless efforts to do its part to help this forgotten population by raising funds for its Turning Point Housing Building Fund for Homeless Disabled Veterans.  
Celebrity Appearance by: 
TRAE IRELAND, PRODUCER, SONY SCREEN GEMS/guest speaker
Began his television career on the award-winning sitcom "Moesha" followed by roles on Emmy award-winning shows, Once and Again and JAG, which led to being cased in the award-winning films Coach Center, The Comebacks and Breaking All The Rules.
 
While on the set of Breaking All The Rules, he met CEO Clint Culpeper of Sony Screen Gems, the film studio that produced Death at the Funeral, Taker and Think Like A Man. Trae expressed to Mr. Culpeper his passion for film as an actor/producer and after 3 years under Screen Gems' tutelage, Trae co-produced the hit comedy, First Sunday, directed by David E. Talbert and starring Ice Cube, Tracy Morgan, Loretta Devine and Katt Williams. As a producer, Trae has worked with some of the entertainment industry's elite such as, Laurence Fishburne, Jamie Foxx, Martin Lawrence, Chris Rock, Jean Reno, Matt Dillion and Zoe Saldana.
Sponsors of Tribute To Our Disabled Veterans include:
Gold Sponsor: Dr. Monte Perez, President  Mission College 
 
Silver Sponsor:  Atty. Herbert Dodell , Judge Pro-tem and president of Dodell Law Firm 
 
Platinum Sponsor: Siva Yam, President USA China Chamber of Commerce.
Performances by:
Beverley Church Hogan, renown Jazz artist who performed  for the United States Air Force and the Royal Canadian Air Force at Labrador
 
Dre Knight,  Marine Veteran is a music producer, pianist, songwriter, and composer who produced songs for Frank Ocean,Sizzla, Sha Stimuli, K. Michelle, Astro, Nicki Minaj and LL Cool J.
"Our goal is to raise awareness and the funds to provide housing that includes good nutrition, mental health and sober living assistance, self-help programs, independent living , mobility devices and other supportive services to help our veterans reenter and become productive  members of mainstream society," said Consuella Mackey, Executive Director of Operation Confidence.   
"For this reason and more, is why Operation Confidence is hosting this important event on November 11, 2016."
Operation Confidence (OC), a 501 © 3 nonprofit organization was founded in 1980 and has assisted over 10,000 + individuals with disabilities with wraparound services for employment and hosted job fairs and community outreach events throughout the city of Los Angeles.
In 2008, while serving on the Los Angeles Rescue Mission, OC volunteer staff members discovered a large population of disabled veterans living in their wheelchairs on the streets of Skid Row, while still wearing portions of their military uniform and displaying pieces left of the American flag. It was at that time the Board of Directors made a commitment to do its part to help.  
Organization's long history of actions on behalf of the community:
https://drive.google.com/drive/u/0/folders/0B0QzG7u1hXaZTUpyVEZ2dWg0ME0
Contact Person: Consuella Mackey, Executive Director
Organization: Operation Confidence
818. 368.4407- Office
818. 282.4916- Cell
Email: consuellamackey@aol.com
www.operationconfidence.org  
Source: Operation Confidence
Share:
---
Categories: Community News, Society, Military and Defense
Tags: community, fundraising, Long Beach, Operation Confidence, veterans
---