Operation Confidence Announces 'Meet & Greet' Sponsored by Union Bank
Press Release
•
updated: Feb 20, 2018
Save the date! The City Club Los Angeles presents 'Operation Confidence'. The event will be held on Wednesday, Feb. 28, 2018, from 6:00 to 8:00 p.m. The keynote speaker will be, Retired Rear Admiral Sandra Adams. Your support and contributions will enable 'Operation Confidence' to meet our goals to provide housing for homeless disabled veterans.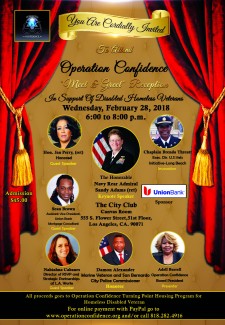 LOS ANGELES, February 20, 2018 (Newswire.com) - Operation Confidence is pleased to announce Union Bank will sponsor its Meet & Greet Reception held at The City Club on Wednesday, Feb. 28, 2018.
Come and join veteran organizations, corporate executives, political and community leaders in The Canvas Room from 6:00 to 8:00 pm as Operation Confidence raises awareness about the urgent need to help our disabled homeless veterans.
The Hon. Navy Rear Admiral Sandy Adams (Ret), will be Keynote Speaker, Hon. Jan Perry (Ret), Distinguished Guest Speaker, Chaplain Brenda Threatt, Executive Director, U.S.VETS/Long Beach, to give the Invocation, Nahtahna Cabanes, Director of RSVP & Strategic Partnerships L.A. Works, Guest Speaker, Kevin Lewandowski, Guest Speaker and Marine Veteran Damon Alexander, San Bernardino City Police Commissioner, is the Honoree.

Sean Brown, Assistant Vice President Union Bank Mortgage, Sponsor Guest Speaker.

Mistresses of Ceremony: Robin Kellogg and Lucie Volotzky. Ms. Adell Burrell, Operation Confidence Board President, Presenter.
The reception will also kickoff Operation Confidence's major fundraiser for 2018, "Proud To Be A Veteran" three-day weekend cruise to Baja, Mexico, departing May 18, aboard the Carnival Cruise Line's, Inspiration. For reservations call Patty at Plaza Travel 818.990-4053 or email Patty@plazatravel.com.
About Operation Confidence
Operation Confidence, a 501(c)3 grassroots nonprofit organization, was founded in 1980 and has assisted 10,000+ disabled individuals with wrap-around services to prepare them for mainstream society and employment. In 2009, Consuella Mackey, Exec. Dir. who served on the Union Rescue Advisory Council discovered a large encampment of disabled homeless veterans living in their wheelchairs on the streets of Skid Row in Los Angeles, many still wearing portions of their military uniforms while displaying remnants of the American flag. A commitment was made at that time for Operation Confidence to do its part to help this forgotten population.
To purchase tickets, click to visit the Operation Confidence website: www.operationconfidence.org / credit cards accepted at the door
Contact Information:
Consuella Mackey, Exec. Dir.
Operation Confidence
818-368-4407 Office
818-282-4916 Cell
Source: Operation Confidence
Related Media
Related Files