Open Range Market is a New Way to Shop Farm to Table
Press Release
-
updated: Feb 22, 2019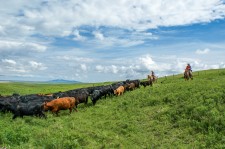 BOZEMAN, Mont., February 22, 2019 (Newswire.com) - Open Range Market is a new online market that is designed to connect consumers with ranchers for a more transparent, more mutually beneficial food buying experience.
The idea for Open Range Market came from some long-time family ranchers who recognized the disconnect between raising cattle for food and their customers, whom they typically never met or otherwise interacted with — despite food being such an important link between the two.
Open Range Market provides a two-way platform: it empowers consumers to learn more about where their food comes from and it also provides a free sales platform for ranchers to expand their marketing efforts.
Shoppers can buy grass-fed beef, Wagyu beef and grass-fed/grain-finished beef and can also sort listings based on what best fits their budget and cut preferences. In this way, consumers can know where their food is coming from and even develop longer-term relationships with ranchers.
At the same time, ranchers will have a new, free, marketing channel where they can talk about their philosophy on raising animals, ranching practices and any other things a consumer might want to know about them.
"Open Range Market gives us a way to go back to the days when ranchers like me fed our family and friends and didn't just ship out cattle to other companies who get the bulk of the profit on all our hard work," points out one rancher. "There are a bunch of online beef subscription-type things now, but they are just fancy online resellers, marking up a handful of options they have already chosen. What I like about Open Range Market is it's really a full-on marketplace that anyone can join and people can choose to do business with exactly whom they want to while saving money."
For more information, visit OpenRangeMarket.com or on Facebook: fb.com/openrangemarket.
Source: Open Range Market
Share:
---
Categories: Lifestyles
Tags: agribusiness, agriculture, Beef, bulk beef, family food, grass-fed beef, local food, organic food
---