Only 1 of 8 Outreach Emails Receive a Reply, New Study by Pitchbox and Backlinko Finds
Press Release
•
updated: Apr 16, 2019
The vast majority of email outreach messages are ignored, according to analysis of 12 million outreach emails.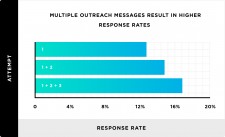 CHEYENNE, Wyo., April 16, 2019 (Newswire.com) - Only 8.5 percent of all outreach emails receive a reply, according to a new industry study from Pitchbox and Backlinko.
The research also discovered that personalizing messages significantly improves the response rate. Specifically, personalized subject lines were correlated with a 30 percent higher response rate, compared to generic subject lines.
The dataset used a subset of email messages sent via the Pitchbox platform – 12 million in total – making it one of the largest outreach studies to date.
This joint Pitchbox and Backlinko study also investigated several other factors that impact email outreach reply and conversion rates:
Impact of Follow-up Messages: The data showed that sending multiple follow-ups doubled the average response rate.
Impact of Number of Contacts: Sending outreach emails to several contacts at the same organization also appears to boost response rates. The study found that reaching out to different people at the same organization was linked to a 93 percent higher response rate.
Impact of Day of the Week: Wednesday appears to be the best day to send outreach emails. Emails sent on Wednesday have a 22.1 percent higher relative response rate compared to those sent on Sunday.
Impact of Message Topic: This study also found that outreach messages on certain topics received higher reply rates than others. Specifically, outreach emails about guest posting and roundups had the highest overall reply rate. Messages about infographics had an especially low reply rate.
Impact of Email Signature: This research investigated the impact of social media links found in email signatures on outreach response rates. The data showed that email signatures that contained links to Twitter, LinkedIn and Instagram received significantly more replies than those without social profile links.
Impact of Combined Factors: The study looked at the combined influence of follow-up sequences and sending messages to several contacts. Sending follow-ups to several contacts was correlated with a 1.6x higher reply rate than sending a single message to one contact.
Complete Study Results: https://backlinko.com/email-outreach-study
Pitchbox is a leading influencer outreach and content marketing platform based in Warminster, Pennsylvania that helps thousands of small businesses and agencies promote their businesses with outreach.
Backlinko is an SEO training company that helps small business owners get higher rankings in Google and YouTube, with a wide variety of online training programs.
Contact
Backlinko
Brian Dean, 1-888-218-9228
brian@backlinko.com
Source: Backlinko